Vetriolo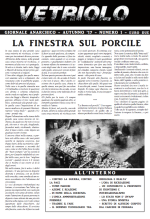 We published issue 1 of anarchist paper
Vetriolo
at last. At the same time we also printed issue 0 for those who have recently asked for copies, as it had been out of stock for a while. After several months of censorship the contribution anarchist comrade Alfredo Cospito wrote last winter for the previous issue has arrived. His letter had been blocked and seized on order of inquisitor judge Sparagna, the "scripta manent" operation's instigator.
In this new issue there's space for analysis on questions that were raised in the previous one, in particular the questions of cities, political alliances and internationalism, the history of the exploited' movement and the continuation of an attempt at the analysis and elaboration of an anarchist theory of the State. Moreover we also treated other questions: a critical reflection of the concept of consistency; another one on survival in urban spaces and the changes that the latter undergo; an article of analysis on technology, in particular robotics, from an ecological point of view and in terms of its social and antisocial consequences. We dedicate an important part to the issue of "war". With our often bitter tone and polemic articles we
...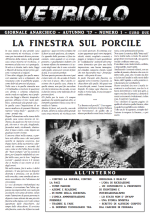 Infine abbiamo pubblicato il numero 1 del giornale anarchico Vetriolo. In concomitanza abbiamo anche ristampato il
numero 0
, per coloro che recentemente ce ne hanno chiesto copie, siccome esaurito da tempo. Dopo svariati mesi di censura è arrivato il contributo che il compagno anarchico Alfredo Cospito scrisse nell'inverno scorso per l'uscita del precedente numero; lettera che venne bloccata e sequestrata per ordine del giudice inquisitore Sparagna, mandante dell'operazione "scripta manent".
In questo nuovo numero c'è spazio per approfondimenti su questioni aperte nel precedente, in particolare sulla questione delle città, sul frontismo e l'internazionalismo, sulla storia del movimento degli sfruttati, e il proseguo del tentativo di analisi ed elaborazione di una teoria anarchica dello Stato. Inoltre, abbiamo analizzato anche altre questioni: una riflessione etica sul concetto di coerenza; un'altra sulla sopravvivenza negli spazi urbani e sulle modificazioni che in questi avvengono; un articolo di analisi della tecnologia e, in particolare, della robotica, sia da un punto di vista ecologico che da quello delle conseguenze sociali e anti-sociali. Uno spazio importante lo dedichiamo al tema della "guerra". Con il nostro tono spesso aspro e con articoli polemici, auspichiamo
...