Titolo: Italy: "Vetriolo" — Anarchist paper, issue 2, autumn 2018 [in Italian]
Italy: "Vetriolo" — Anarchist paper, issue 2, autumn 2018 [in Italian]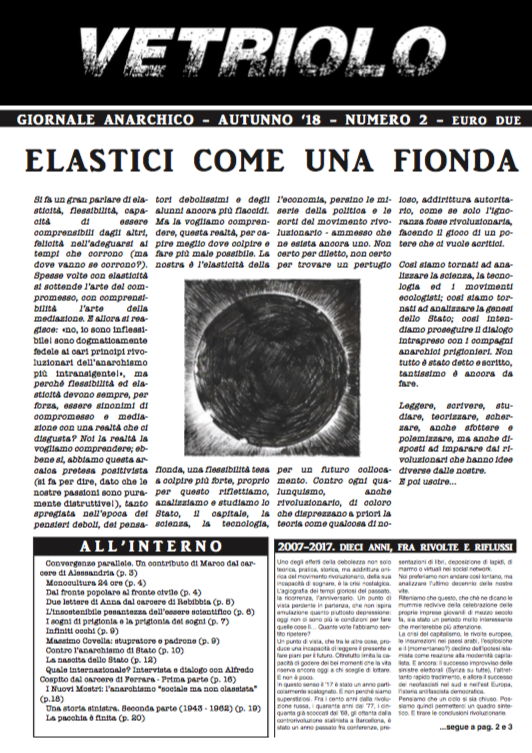 It's been a long while. After a year we are publishing another issue of Vetriolo, issue number 2. We haven't brought out the paper more frequently up to now, nor have we wanted to. Not that we didn't have anything to say during this time, on the contrary. However we have never strenuously followed the possibility of giving a strict periodicity to the publication, which because of its form (with fairly concise texts of agitation, analysis and topicality as well as more extensive and complicated theoretical articles) is not suited to it. At the same time we'd like the paper to come out without long delays. In any case we think that this paper is an important instrument for the anarchist movement regardless of the frequency with which it comes out. The pages of Vetriolo have always been and will continue to be a means aimed at discussion, dialogue and confrontation among anarchists. The paper will continue to give time and space to dialogue and debate among revolutionaries, including those who find themselves imprisoned. In this issue there are writings and articles by Marco, Anna and Alfredo, imprisoned following the arrests of the repressive operation 'scripta manent' of 6th September 2016.
Anarchists have always appropriated instruments to nourish anarchist ideas and anarchism itself with discussions and actions. In this paper we will try to continue to give space and time to debate, polemics, reflexion, study and analysis. We won't tire of repeating it; these are aspects that we consider distant from chatter, sterile opposition, commonplaces and hassles, which we believe afflict certain contexts of the anarchist movement. In this respect, the paper will never be representative of some special faction, 'trend' or line to be followed or complied with. We have no thoughts to be contemplated or flags to be waved. On the contrary we have the awareness of a clear difference in certain of our convictions compared to those of others. We are aware of the fact that renouncing anarchism means renouncing all revolutionary and subversive possibilities. We have the will and the intention to banish all forms of petty superficiality.
It seems that today those who content themselves with assimilating facts and notions that are easily memorized and shared are many. So many objective immediate things. Nothing too complicated, and very little to reflect upon. There are those who praise real and proper 'ignorance' and reject 'theory' as something out of place, boring, of secondary importance. Something authoritarian even. In fact, not by chance, you can happen to be told that you want to 'rip off' and deceive someone merely by exposing and expressing your ideas. Revolutionary ignorance? Certainly not. This kind of misery is typical of those who can't perceive the complementarity between thought and action. We'd like this paper not to be 'used' passively, we'd like thought not to remain crystalized between the lines and columns of a publication, but animate the discussions going on among anarchists, to contribute to the clarification of intents and perspectives and give space to the various aspects of the antiauthoritarian struggle against power. Precisely for this reason we are calling on comrades who might be interested in taking on the circulation of the paper in their own areas as widely as possible, and we also invite them to send us reflexions and criticisms.
We know it is an ambitious project. This paper includes ideas but not as a mere container. It has the claim of wanting to explore the various 'threads' of reading, analysis and reflections that are developed and examined by and by. Therefore we won't limit ourselves to setting them out and composing them in each issue of the paper. Moreover a good part of the texts are aimed specifically for this publication and were created as such, so have a specific meaning in this project. Each time we will analyse questions, thoughts and ideas that we think are important, necessary and impellent, and along with them we intend to proceed in understanding the reality around us. We have this obstinacy, this kind of stubbornness that we don't want to renounce. And wanting to understand is not necessarily the same as wanting to be understood by everybody.
In particular in this issue we 'discovered' a spontaneous 'conspiracy' between the most important editors' articles in respect to the topic of the interpretation to be given to the ongoing technological revolution. Alfredo Cospito talked about that in his interview, of which we have published the first part and which we will circulate further in the coming months; we faced it from a philosophical point of view concerning the 'theoretical status' (not) to be given to the concept of Nature, by criticizing metaphysical misunderstandings within eco movements; we also took it from an historical point of view, in the article dedicated to the birth of the State; and in the transition between so-called Bronze Age and Iron Age we identified the historical moment when authoritarian society implemented its military structure and the division of labour it required. But we didn't stop at theory; we 'dared' interpretations we believe are fundamental to understanding the current times. As in the previous issue, we have observed the social crisis which new technologies are seen to inflict on the poorest classes of humanity (starting from the employment question, a real taboo for anarchist reflection in recent years), and this time we went even further: we suggested that new technologies are directly linked to so-called 'crisis of globalization' (why exploit a child in Vietnam when the bosses will be able to 'print' shoes directly with 3D printers?) and that phenomena such as Brexit, Trump, Orban, Salvini, etc., are the results of an historical trend towards a new robotic nationalism.
In other words general theoretical analyses meant to seize instruments adequate to the attack on the actual world. For, upturning the slogan which belonged to the no global: 'another world is impossible, it is this one that we have to fight against'. So there's much talk about elasticity, flexibility, the ability to be understood by others, happiness in adapting to the running times (but where are these times going if they're running?) Often when you mention elasticity you imply the art of compromise, and for understanding you imply the art of negotiation. And for many this means being flexible, which also means becoming adaptable, malleable, kin to being manipulated and at the same time incredibly rigid. For in a certain sense the world got us accustomed to being rigid, of a rigidity which led to having blinkers and chains well planted in our heads. But why should elasticity and flexibility always be the same as compromise and negotiation with a reality that disgusts us? We think we can go further. Ours is the elasticity of a sling, a flexibility that aims to strike harder. Precisely for this reason we reflect, analyse and study the State, capital, science, technology, the economy, the misery of politics and the outcomes of the revolutionary movement. Certainly not to amuse ourselves or to find a hole for future collocation.
In this issue:
- Elastic like a sling
- 2007 – 2017. Ten years of revolts and refluxes
- Parallel convergences. A contribution by Marco from the prison in Alessandria
- From the popular front to the civil front
- 24-hour monoculture
- The whole truth…
- Considerations on the cages of democracy
- The unbearable dullness of being scientific
- Dreams of captivity and captivity of dreams
- Infinite eyes
- Rapist and boss
- Against State anarchism
- The birth of the State
- What international? Interview and dialogue with Alfredo Cospito from the prison of Ferrara. Part one
- The New monsters: 'social but not class' anarchism
- A leftist story. Part two (1943 – 1962)
- The fun has ended
2 euros per copy; for distributors, starting from five copies, 1.50 euros per copy. Postal fees: 1.30 euro (up to 2 kg). Postal fees in Europe: 5 euros approximately. Free for prisoners.
For orders, contacts, reflections and criticism and to send potentially interesting material to the editors, write to: vetriolo@autistici.org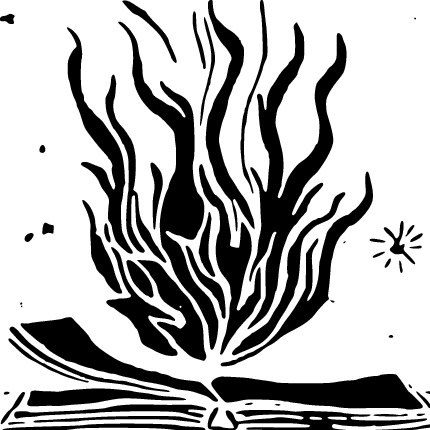 Bookmarks