Title: Parigi [Francia] : Viva il carburo di tungsteno (18/01/2017)
Parigi [Francia] : Viva il carburo di tungsteno (18/01/2017)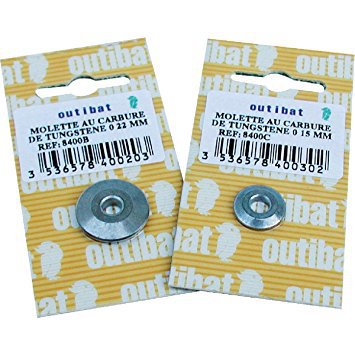 In solidarietà con Damien, che passa domani in tribunale a Parigi. L'occasione di condividere la notevole efficacia di un piccolo compagno di tasca.
Mi giravano le palle di brutto, stasera. Pensavo a Damien che passa in processo, alla grandiosa manifestazione del 14 aprile, quando ci eravamo divertiti a spaccare tutto, a tutti quegli stronzi che ci rovinano la vita, alle nostre maschere subacquee e alle maschere a gas che si annoiano, da quando non spacchiamo più tutto, tutti i giovedì [durante i quattro mesi di movimento contro la Loi travail, le manifestazioni erano spesso il giovedì – qualche volta pure il martedì; NdT].
Intorno alla Porte des Lilas [nord-est di Parigi; NdT], ho sfondato gli schermi di 7 bancomat, 4 pannelli pubblicitari JCDecaux ed i vetri di una macchina della RATP [i trasporti pubblici di Parigi; NdT] e di una della SPIE (costruttori di carceri).
Tutto ciò con una discrezione (relativa: fa un piccolo "ploc", soprattutto sui vetri delle macchine) molto apprezzabile, grazie ad una piccola rondella che serve per tagliare le piastrelle, di 22 mm di diametro, in carburo di tungsteno, montata su un laccio abbastanza robusto da sopportare i graffi del vetro rotto. Per gli sbirri è una collana fantasia carina, ma è la bestia nera dei vetri. Si trova in tutti buoni negozi di bricolage.
Bob aggiustatutto
(tradotto da guerresociale)
Pariz [Francuska]: Živio volframov karbid (18.01.2017.)
U znak solidarnosti s Damienom, koji će sutra biti na sudu u Parizu. Prilika da podijelimo značajnu učinkovitost jednog malog džepnog druga.
Baš sam bio užasno bijesan, noćas. Mislio sam na Damiena koji mora pred sud, na sjajni prosvjed 14. aprila, kada smo se zabavili sve uništavajući, svim onim govnima koji nam uništavaju živote, na naše podvodne i gas maske koje se dosađuju otkad više ne uništavamo sve, svakog četvrtka [tokom četiri mjeseca pokreta protiv Zakona o radu prosvjedi su često bili četvrtkom – ponekad i utorkom; nap.prev. na tal.].
U okolici Porte des Lilas [sjevero-istok Pariza; nap.prev. na tal.] razbio sam 7 ekrana bankomata, 4 reklame JCDecaux te stakla jednog vozila RATP-a [pariški javni prijevoz; nap.prev. na tal.] i jednog SPIE-a (graditelja zatvora).
I sve to uz znatnu diskreciju (relativnu: čuje se mali "plok", nadasve na staklima vozila), zahvaljujući jednom malom kotačiću koji se koristi za rezanje pločica, od 22 mm promjera, od volframovog kabrida, svezanog za prilično čvrstu vrpcu kako bi podnio ogrebotine razbijenog stakla. Za pandure će to biti samo jedna maštovita dražesna ogrlica, ali to je crna zvijer za stakla. Naći ćete ga u svim boljim dućanima za uređenje doma i vrta.
Bob samsvojmastor