Titolo: Naprijed... ovdje smo
Croce Nera Anarchica
Naprijed... ovdje smo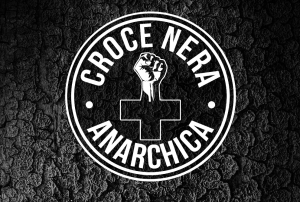 Licem u lice s neprijateljem
U zoru 6. septembra pokrenuta je operacija "Scripta Manent".
32 anarhistička druga, u raznim talijanskim gradovima, probudila je D.I.G.O.S [politička policija, nap.prev.] i pandurija s nalogom za pretres. Od njih 32, 15 su pod istragom, a za 7 njih, Marca, Sandronea, Valentinu, Alfreda, Nicolu, Annu i Danila izdani su nalozi za hapšenje, da bi zatim bilo izvršeno još jedno hapšenje (izvan okvira te istrage), Danielea, urednika C.N.A. [Anarhističkog Crnog Križa, nap.prev.] kao ishod pretresa (pronađeno je par baterija i jedan priručnika za električara).
Naručitelj navedene represivne operacije je, želimo ponoviti, javni tužitelj torinskog tužiteljstva, Roberto Maria Sparagna.
Optužbe protiv naših drugova smrde na stari papir, izvučen iz prašnjavih ladica, ništa novo pod suncem, a i nemaštoviti dokazi istražitelja, koji ne znajući za što da se uhvate kako bi opravdali svoje bijedno postojanje sabiru stare istrage, ista imena i već poznate novine/teorije.
Istraga se temelji na napadima za koje je odgovornost preuzela NEFORMALNA ANARHISTIČKA ORGANIZACIJA između 2003. i 2007.
Točnije, napadi uključeni u ovu istragu za koje su osumnjičeni, odnose na pisma-bombe poslane u maju 2005. direktoru CPT-a [sabirni centar za migrante, nap.prev.] u Modeni, kasarni prometne policije u torinskoj četvrti San Salvario i načelniku policije grada Lecce, za koje je odgovornost preuzela FAI/Narodnaja Volja, na eksplozivnu napravu u kasarni RIS-a [forenzičarska jedinica karabinjera, nap.prev.] u Parmi 24.10.2005., za koju je odgovornost preuzela FAI/Cooperativa Artigiana Fuoco e Affini (occasionalmente spettacolare) [obrtnička zadruga požar i slično, po potrebi spektakularna, nap.prev.], na naprave u kasarni kadeta karabinjera u Fossanu, 02.06.2006., za koje je odgovornost preuzela FAI/RAT (Rivolta Anonima e Tremenda) [anonimna i strašna pobuna, nap.prev.], na pakete-bombe poslane u Torinu jula 2006. poduzeću Coema Edilità (uključenom u obnovu sabirnih centara za migrante), gradonačelniku Sergiu Chiamparinu i direktoru dnevnih novina "Torino Cronaca", za koje je odgovornost preuzela FAI/RAT (Rivolta Anonima e Tremenda), na naprave postavljene u torinskoj četvrti Crocetta, 07.03.2016. za koje je odgovornost preuzela FAI/RAT; osim i na druga djela odnose se i na ranjavanje izvršnog direktora poduzeća Ansaldo Nucleare, R. Adinolfija, 07.05.2012., za koje su dva anarhistička druga, Alfredo i Nicola, već osuđeni i za koje su javno preuzeli odgovornost.
Ukratko, vraća se ustaljeno kazneno djelo udruživanja po članku 270bis [udruživanje u svrhu terorizma ili rušenja demokratskog poretka, nap.prev.] , plus po različitim 280bis [teroristička djela, nap.prev.] i jednom 285 [atentat na sigurnost države, nap.prev.].
S pravne razine toliko, u očekivanju izjava drugova i proučavanja papirologije istrage.
Pokažimo zube
Što se tiče izdavačkog projekta Croce Nera Anarchica, kao što smo napisali u njegovim počecima "Plamenovi pobune i dalje rasvjetljavaju mrak jednog svijeta koji je inače usmjeren na uništenje pojedinca i na homologno ropstvo: potpirivanju ovih plamenova i potpaljivanju novih ove stranice su namijenjene."
Croce Nera Anarchica, osim što širi vijesti o napadima diljem svijeta, izjave o preuzimanju odgovornosti, izjave i doprinose analize i kritike, od urednika i ostalih, bio je i bit će realna podrška koja omogućava drugovima ratnim zatvorenicima da i dalje budu živi dio revolucionarne rasprave, omogućavajući na taj način neprekidnu opskrbu idejama i analizama kako bi ustrajali u borbi.
Dakle, sada nam je važno naglasiti, ponovno i ponovno, da je revolucionarno nasilje direktne akcije djelovanje za koje treba preuzeti odgovornost. Kao anarhistima, svako pojedino djelo za koje su naši drugovi optuženi, pripada nama; pripada nam i ono je baština čitavog anarhističkog pokreta.
Za nas anarhija ne samo da je moguća sada i ovdje, nego se i konkretizira u svakoj svojoj eksploziji, svaki put kada se jedno djelo ostvari. Utvrdi se u tim kratkim trenucima kada noć obasja nepokorni plamen, potvrdi se u svakom pokušaju bijega iz zatvora, iskaže se uzimanjem stolice u ruke da bi se razbilo staklo koje razdvaja pse stražare i prostor za posjete unutar zatvora. Anarhija ima mnogo imena, a mi preuzimamo sva imena anarhizma, anarhija je neprekidno kročenje prema nedostižnom obzorju. To je stalna potraga za beskrajnom slobodom. To je svjesno širenje kaosa i njenih posljedica.
Solidarnost... i destruktivna djela
Kao što je već rečeno i rečeno, solidarnost je, po nama, ona na djelu, nastavljanje napada i djelovanja zbog kojih su drugovi uhapšeni. Djelovanje koje pripada svima.
Nećemo se povući, ovdje smo, uvijek rame uz rame s drugovima koji se, protiv valova rezignacije, bacaju zanosom u oluju.
Krvavim očima, stežemo naše drugove, svjesni da odgovor na represiju znači kročiti naprijed i pokrenuti, ponovno i ponovno.
Sve ostalo je dosada.
Sve ostalo je politika i gadi nam se.
Uvijek za Anarhiju...
Omar, Lello i Ale, dio uredništva Croce Nera Anarchica
Rim, 09.09.2016.