Titolo: ZATVOR KORIDALLOS - ATENA [GRČKA]: PISMO ANARHISTIČKOG ZATVORENIKA GRIGORISA TSIRONISA UOČI 11. JUNA - POZDRAV ZA MEĐUNARODNI DAN SOLIDARNOSTI I DJELA ZA ANARHISTIČKE ZATVORENIKE DILJEM SVIJETA
ZATVOR KORIDALLOS - ATENA [GRČKA]: PISMO ANARHISTIČKOG ZATVORENIKA GRIGORISA TSIRONISA UOČI 11. JUNA - POZDRAV ZA MEĐUNARODNI DAN SOLIDARNOSTI I DJELA ZA ANARHISTIČKE ZATVORENIKE DILJEM SVIJETA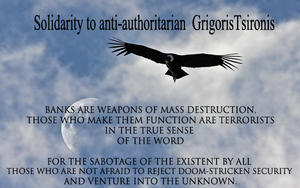 Međunarnodni dan kada svi zatvorenici iz svih krajeva svijeta, svi koji proživljavaju prisilno stanje zatočeništva u kaznenim zatvorskim logorima demokracije, svi kojima je oduzeto najvrednije dobro slobode, ujedinjuje svoje glasove, svoje misli i osjećaje kako bi im se poslao znak da nitko nije sam.
Unatoč stotinama kilometara koji nas razdvajaju, unatoč što se međusobno ne poznajemo, unatoč svim našim razlikama, postoji nešto što prelazi granice i briše sve razdaljine, nešto što se ne može utamničiti, nešto nadilazi zidove koji nas okružuju, nešto što nema cijene u srcima svih onih koji to osjete, izražavaju ili primaju.
To je snažan osjećaj solidarnosti koji nas ispunjava snagom, koji nam daje hrabrosti, kako se ne bi predali čak i u ovim vrlo teškim uvjetima koji svi proživljavamo, i zato se nastavljamo boriti istom strašću.
To je snažna veza između onih koji se smatraju drugovima putnicima, između onih koji pretvaraju teoriju u djelo, onih koji razvijaju višestruko djelovanje u svrhu uništenja postojećeg, onih koji se bore protiv svakog oblika nametanja i ograničenja, koji uzvraćaju udarac nepravdi i izrabljivanju, koji bijesom i sviješću slijede častan životni izbor.
To je solidarnost koja je danas, više nego ikada, postala meta vlasti, represijom i kriminalizacijom. No, ona je i naše oružje, nema veze koliko god pokušali nikada nas neće uspjeti razoružati. Zato što su "metci" solidarnosti sve male ili velike geste podrške svih onih koji nas smatraju dijelom sebe samih, i onih koji se ne mogu osjećati slobodnima dok istovremeno su drugovi zatvoreni, taoci u rukama države.
SOLIDARNOST SA SVIM ZATOČENICIMA DRUŠTVENO-KLASNOG RATA
SVE DO UNIŠTENJA I POSLJEDNJEG ZATVORA
Grigoris Tsironis
Zatvor Koridallos
11.06.2016.
Izvor: 325