Titolo: Naša suđenja će se pretvoriti u osudu države
Data: 20.04.2016.
Anarhistička grupa urbane gerile "Zavjera Vatrenih Ćelija" [Grčka]
Naša suđenja će se pretvoriti u osudu države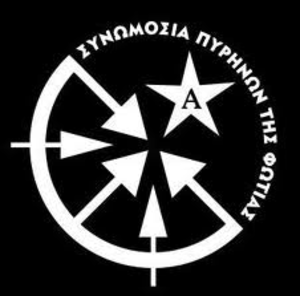 (Za žalbeno ročište 20. aprila)
"Udaljenost koja razdvaja slobodu od ropstva... je jasna..."
20. april, zatvor Korydallos, Žalbeno ročište protiv Zavjere Vatrenih Ćelija
Sudi nam se za eksplozivnu napravu pronađenu u domu u Halandriju (slučaj "Halandri"), za postavljanje bombe u stan bivšeg ministra unutrašnjih poslova P. Hinofotisa (radio je u vojsci u doba vojne diktature), u stan bivšeg zastupnika i današnjeg predsjednika Grčke banke, L. Katselija te za postavljanje bombe u ministarstvo Makedonije-Trakije, na dan Međunarodnog sajma u Solunu.
Optuženi smo i za slanje paketa-bombi ambasadama, međunarodnim policijskim-pravosudnim institucijama (Eurojust-Europol) te kancelarki [Angeli] Merkel, (tadašnjem) premijeru Italije, medijskom mogulu Berlusconiju i rasističkom bivšem francuskom predsjedniku Sarkozyju.
Na koncu, sudi nam se i za posjedovanje oružja s otežavajućim okolnostima te za sukob s pandurima u Pefkiju.
Sve to su samo neki fotogrami iz djelovanja Zavjere Vatrenih Ćelija. Mi smo otvoreno preuzeli odgovornost i stali u obranu svih naših djela, pošto smo uvjereni da se svijet ne može doseći ni molitvama ni kletvama.
Na ovom suđenju, 20. aprila, ne sudi se samo članovima Zavjere Vatrenih Ćelija i drugim anarhistima za druge slučajeve, NEGO urbanoj gerili općenito.
U biti, sudi se odabiru oružane borbe protiv ubojitog stroja moći.
Danas, svatko tko ne shvaća nužnost oružanog anarhističkog djelovanja protiv tiranina naših života ili je krajnje naivan ili je pandur.
Svi oni koji se kockaju našim životima na burzama, u središnjim bankama, na međunarodnim susretima moćnika neće odustati od svojih službi i od svojeg blagostanja samo zato što smo ih pristojno zamolili... Jedini jezik koji oni razumiju je strah.
Naši glasovi i naše ideje postaju snažniji kada dolaze iz cijevi pištolja...
Prekinimo tolerirati strašila moći koja nas obmanjuju riječima kao što su "demokracija", "sloboda" i "prava".
Ako želiš shvatiti što svi oni zaista misle nemoj slušati njihove riječi... samo pogledaj u njihove džepove...
To su oni isti koji su nametnuli kobnu financijsku diktaturu koja guši naš svakidašnji život, tjerajući neke ljude u rezignaciju a druge u samoubojstvo.
To su oni isti koji šalju vojsku i pretvaraju čitave zemlje u masovne grobnice, kako bi zadovoljili interese naftnih i multinacionalnih korporacija.
To su oni isti koji vode propagandu i spektakl pretvarajući laž u istinu, život u digitalnu varku, a sreću u opremu za mobitele.
Dosta s mirnim prosvjedima, nijedna ljevičarska iluzija neće svrgnuti moć s njenog prijestolja.
Pitanje, koje često zvuči kao neka posmrtna misa, "a kako će se svijet izmijeniti?" je sranje, kapitulacija i kukavičluk... Svatko tko želi izmijeniti svoj vlastiti život i svijet, nek se naoruža i pronaći će odgovor.
20. aprila pravosudna Inkvizicija željet će izvući iz nas znak pokajanja, znak primirja...
Zatvoreni smo u ćelijama, premjestili su nas na izolacijski odjel, uhapsili su i zatvorili članove naših obitelji, sudi nam se unutar zatvora, ALI nećemo se pomiriti sa smrću i pokoravanjem...
Zavjera Vatrenih Ćelija će se obnoviti i vratiti u napad...
"Nakazanost moći analizirana je i interpretirana kroz svaku generaciju i sa svakog aspekta... Ono što se danas dešava ne zahtijeva daljnje analize, iziskuje djelovanje..."
DUG ŽIVOT ZAVJERI VATRENIH ĆELIJA
DUG ŽIVOT NEFORMALNOJ ANARHISTIČKOJ FEDERACIJI (F.A.I.)
DUG ŽIVOT ANARHISTIČKOJ URBANOJ GERILI
Članovi Zavjere Vatrenih Ćelija – FAI/IRF
Olga Economidou
Giorgos Polydoros
Christos Tsakalos
Gerasimos Tsakalos
*Preveo na engleski A-politiko, kao mali znak solidarnosti s našim drugovima, za dan solidarnosti 23. aprila
Izvor: 325