Titolo: NJEMAČKA - ŠPANJOLSKA: KOORDINIRANA REPRESIJA PROTIV ANARHISTA (19.04.2016.)
NJEMAČKA - ŠPANJOLSKA: KOORDINIRANA REPRESIJA PROTIV ANARHISTA (19.04.2016.)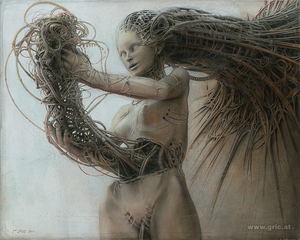 Jula 2015. naša prijateljica i drugarica uhapšena je tokom kontrole pasoša na grčko-bugarskoj granici. Europski nalog za uhićenje protiv nje izdalo je tužilaštvo u Aachenu, Njemačka, 24. juna 2015. U Koelnu je bila zatvorena pod "U-haft" režimom (Untersuchungshaft) zbog njene navodne upletenosti u oružanu pljačke banke koja se odvila prije dvije godine (2013.). 02. decembra 2015., nakon mjeseci istrage, tužilaštvo ju je i službeno optužilo za pljačku banke, uzimanje taoca i posjedovanje oružja. 16. decembra sud je pozvao zatvor da je otpusti pošto će biti oslobođena svih optužbi, budući da "dokazi" koje je istraga proizvela tih mjeseci nisu bili dovoljni da je izvedu pred sud.
Kada smo pisali tu izjavu glede zatvaranja i otpuštanja naše prijateljice nadali smo se da će biti posljednja. Nažalost njemački panduri se nisu složili i odlučili su uložiti žalbu na njeno otpuštanje. Zbog čega je, nakon što je obični sud odbacio slučaj, viši sud odlučio da ga ponovno otvori. Što znači da nakon što je provela gotovo šest mjeseci u pritvoru, naša prijateljica i drugarica se sada nalazi vani čekajući suđenje. Još nije jasno kada će se održati suđenje. Unatoč brojnim očajničkim pokušajima tužilaštva za izdavanjem novog naloga za hapšenje - trenutno čekamo odluku višeg suda na još jednu žalbu - ona se još nalazi vani uz nas.
No, u srijedu 13. aprila isto tužilaštvo je naložilo brojne pretrese u Barceloni koji su se okončali hapšenjem još jedne drugarice; rečeno je da je sudjelovala u pljački banke počinjenoj u Aachenu 2014. Jasno je da su njemačke i španjolske vlasti odlučile udružiti snage na ovom projektu represije protiv anarhista na europskom području, koje podržavaju poslušni psi medija.
Kao i očekivano, mediji trljaju ruke i isprepliću "obično krivično djelo" s anarhistima. Što nas ne iznenađuje, pogotovo u vrijeme represije protiv svega subverzivnog.
Međutim, mi smatramo da je važno ostaviti razliku između "običnog" i "političkog" kriminala pandurima, tužiteljima, novinarima. Nije nam potrebno da snabdijevamo vlasti kategorijama koje će oni vrlo voljno prihvatiti. Kao što je rečeno u izjavi koju su objavili drugovi osobe uhapšene u Barceloni, eksproprijacija banaka je "etički pravedna i politički legitimna praksa, metode borbe koja sačinjava dio povijesti svakog revolucionarnog pokreta." Da li su optuženi sudjelovali u pljačkama ili nisu, nama to nije važno. Nama je važno izraziti solidarnost s onima koje progone vlasti.
Dok lakeji države razmnožavaju svoje pretpostavke i optužbe u svijetu punom spektakla, mi trebamo držati na umu naše perspektive i ideale. Ovo nije vrijeme za nagađanja, niti za traženje "razloga" pljački, ni za navodnu nevinost ili krivicu uhapšenih. Umjesto da to bude trenutak propitivanja, trebao bi biti trenutak odgovora - jasnih odgovora usmjerenih na sve koje nas guše. Kao što je već rečeno, "dirnete li jednog nas, dirnuli ste sve". Više od ičega, ovo je trenutak za solidarnost, u bilo kojem obliku.
Sloboda za zatvorene anarhiste sada
Sve do uništenja svih zatvora i banaka kojima su oni nužni
Amsterdam, 19. april 2016.
Izvor: Act For Freedom Now!