Titolo: ATENA [GRČKA]: ZAPALJENE DVIJE CRKVE U ZNAK SOLIDARNOSTI S MONICOM I FRANCISCOM
ATENA [GRČKA]: ZAPALJENE DVIJE CRKVE U ZNAK SOLIDARNOSTI S MONICOM I FRANCISCOM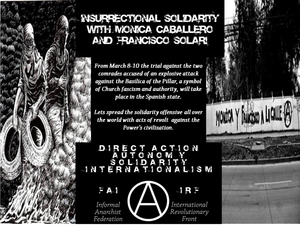 Smatramo da nije potreban nikakav posebni razlog za destruktivno djelovanje koje manifestira mržnju i bijes protiv jednog od najstarijih mehanizama represije koje je ljudsko krdo stvorilo, da bi i on postao još jedno jamstvo sigurnosti i stabilnosti. K tome, kako bi mogla stoljeća represije, kazni, krivice, nemilosti i nametanja biti ukorena i dobro analizirana u jednoj jedinoj izjavi o preuzimanju odgovornosti? Trebali bi nam brojni tomovi knjiga da izložimo samo i najmanji dio dokaza te degeneracije života koja se zove religija, koja je uvijek promovirala slabost, rezignaciju, teror, izumiranje i izobličavanje, besramno sramočeći kroz vlastiti paradoks život i njegove pobornike, šireći svukud klicu krivice, protiv budućosti, i doprinoseći stvaranju amputiranih vjernika koji su voljni kleknuti pred svakim propovjednikom istine i štovati bič grijeha.
Kroz ovih nekoliko riječi svatko može shvatiti religijski doprinos u uspostavi autoritarnih društava i masovnog života koji se razvija duž kolosijeka svakidanšnjeg života nesigurnih osoba, odvojenih od vlastitih želja i strasti, osuđenih da nose teret svetog ideala, koji je uveden božanskim primjerom neporecive logike, koja u nastavku predstavlja maternicu današnje znanstvene doktrine... Osim toga, bitan doprinos svake religije u stvaranju oholosti i apatije jednostavno ne može ostati u sjeni, pošto božanstvena tvar koja proizlazi iz religioznih osoba kao jednosmjerna ulica može rasti samo uz dodijeljivanje i zastupanje.
Zato je napad na vjerske strukture sastavni dio sveopćeg rata koji vodimo protiv postojećeg sistema. Rata s posljedicama s kojima su se drugovi, na različitim mjestima i periodima, suočavali i još suočavaju... Neki od tih drugova su Monica Caballero i Francisco Solar, osuđeni zbog bombaškog napada na katedralu El Pilar u Zaragozi. Želeći izraziti naše suučesništvo sa zatvorenim drugovima razbili smo prozore i podmetnuli požar u dvije crkve:
- manastira Svih svetaca u Kallitheji
- manastira Svetog Bazilija u Egzarhiji
Za kraj ovog teksta upotrijebit ćemo riječi druga Francisca Solara, za koje mislimo da izražavaju razloge našeg djela:
"Mi smo ikonoklasti. Zato smatram da u tom nastojanju trebamo biti dosljedni. Mi nismo spasitelji ničega i nikoga. Ako se sukobljavamo s autoritetom to je zato jer ga želimo ukinuti u našim životima, e ne zato jer mislimo da će se raj izroditi iz ruševina moći. Stvar koja nam pripada je potpuna negacija postojećeg sistema, a ono što ovaj sistem nudi je zagonetka. To je ono što nas motivira."
Izvor: Machorka