Titolo: UK: Online version of Return Fire vol.4
UK: Online version of Return Fire vol.4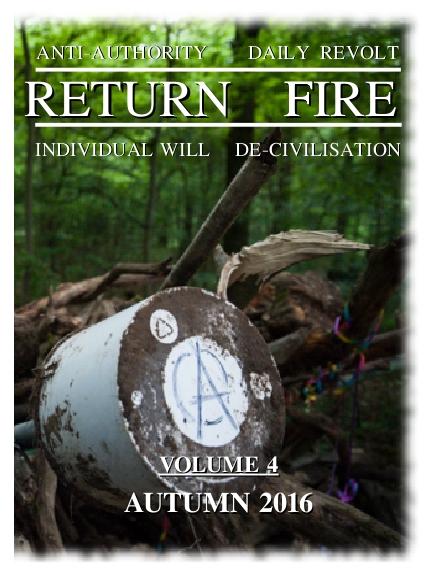 Here's the PDFs for the most recent version of Return Fire, vol.4, of autumn 2016 – additionally with the supplement that accompanies it. Once again, 100 pages of passion, commentary, proposals and interview material. The supplement, Caught in the Net, is a survey of critical perspectives on what information age technology is doing to our cognitive abilities, our health more generally, and our capacity to rebel. It comes as a separate document, of another 28 pages. Both colour and greyscale cover options are available, for further reproduction and distribution.
Caught in the Net — Return Fire #4 supplement
To give you an idea, a few of the featured pieces are the Institute for the Study of Insurgent Warfare's essay Panopticons Then & Now, arguing for a more sophisticated understanding of the surveillance State; On the Catastrophe of the Salmon Farms and Martime Devastation in the Patagonian Sea as recounted by members of Colectivo Critica y Accion following the events of 2016; words on avoiding needlessly repetitious deeds and indeed aiming to 'hit where it hurts' as highlighted in Dissonanz #34 by Taking Apart Authority; and Sold Out to the Industry tells of U.K. unionism cosying up to the fracking prospectors, from The Acorn.
Other articles we have condensed or synthesised are those such as the 'Antagonistic Margins' of seduction, contagion and queering the 'terrortory', by The Experimentation Committee; the presentation of "Another Figure of the Migrant" as theorised by Thomas Nail in conversation with the Hostis journal; or Ed Lord's discussion of modernity and questions of psychological 'disorders', 'A Profound Dis-ease'.
Plenty of direct attacks on structures of our enemies found their way into our Global Flash-Points listing, as usual, as did the lowdown on various trials and kidnappings of those we feel an affinity to in Rebels Behind Bars. Our review for the issue is a reappraisal of the John Zerzan essay, Animal Dreams, by Bellamy Fitzpatrick, as To Love the Inhuman, mindful of the recurrent pitfalls of certain aspects of anti-civilisation analysis. Verses of Hunter Hall, Gabriel Pombo da Silva, Robert Hass and more made it into this round of Poems for Love, Loss & War.
Delving back to grasp Memory as a Weapon, in this section we've got stuff from "An Outragous Spirit of Tumult & Riot" during the Luddite rebellions against assimilation into the factory system of booming British industrialism (resurrected from the archives of Do or Die magazine) to A Shorter History of a Northwest E.L.F. Cell (sometimes exhilarating, sometimes dismaying) which was serialised in Tides of Flame, charting the rise and fall of one particular environmental guerrilla faction leading into the 'Green Scare' of a decade gone by; and that's just a part of it…
As for the rest, grab a copy and see what moves you.

Comments, suggestions and submissions: returnfire@riseup.net
More soon.

R.F.

Afterword: The timestamp on this volume means that some developments are not up to date in the online release. We'd encourage readers to research cases that interest them for updates, but for now we wanted to at least publicise the prison address for one anarchist who has since been sentenced to 7 years and 6 months for the Aachen case outlined in vol.4 (the second defendant, also arrested in Barcelona, was acquitted). She welcomes correspondence in English, Spanish, Italian or German; let's not leave her alone. Inform yourself, arm yourself, reach out, make a fist. Post to:
Lisa
Buchnummer: 2893/16/7
Justizvollzuganstanlt (JVA) Köln
Rochusstrasse 350
50827 Köln – Germany
____________________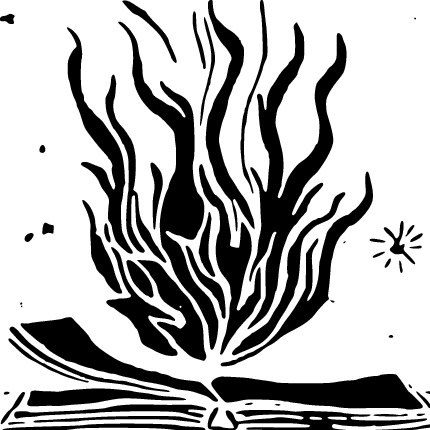 Bookmarks