Titolo: GRČKA: POLITIČKA IZJAVA ANARHISTA SPYROSA MANDYLASA NA SPECIJALNOM SUĐENJU U ZATVORU KORYDALLOS
GRČKA: POLITIČKA IZJAVA ANARHISTA SPYROSA MANDYLASA NA SPECIJALNOM SUĐENJU U ZATVORU KORYDALLOS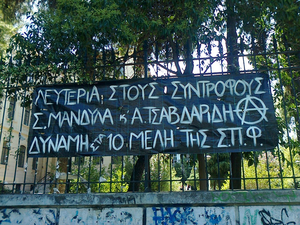 (Solun, uoči početka suđenja, 02.06.14., "Sloboda za drugove S.Mandylasa i A.Tsavdaridisa - Snage 10 članova ZVĆ")
Kao prvo želim reći da podržavam i stojim uz mog druga i prijatelja Andreasa Tsavdaridisa, i mojih deset drugova i prijatelja iz Zavjere Vatrenih Ćelija.
Što se tiče okolnosti ovog suđenja želim komentirati dvije stvari:
- Činjenicu da se suđenje, političko suđenje, odvija u specijalnoj sudnici, unutar zatvora Korydallos.
- Činjenicu da su naši drugovi, kako bi prisustvovali suđenju, morali pokazati dokumente vlastima.
Što se mojeg slučaja tiče želim reći da sam nanišanjen i uhapšen u kontekstu ozračja straha koje je država nametnula anarhistima, a posebno struji čiji sam i ja dio, struji Nove Anarhije.
Mojim slučajem, na ovom suđenju, bit će istaknuta činjenica da sam bez ijednog čvrstog dokaza optužen za pripadanje terorističkoj organizaciji zato što sam organizirao javno okupljanje dok sam bio član Anarhističkog Skvota Nadir, u Solunu.
Bit će dokazano da demokracija ne smatra takve javne projekte manjom prijetnjom od direktne akcije, već ih na kraju inkriminira i sudski progoni, budući da takvi javni projekti predstavljaju vrlo bitan doprinos u neprekidnom anarhističkom ustanku.
Osim toga, ovo nije ni prvi put. Rekao bih da ovo teži da postane međunarodna praksa. Represivna kampanja u vezi projekta "Feniks" ima velike sličnosti s operacijom "Shadow" u Italiji, prije dvije godine. Kada su drugovi koji su vodili web-siteove i časopise bili optuženi za kontekst takvih projekata.
Što se pak tiče moje teze i mojeg viđenja urbana gerile i Zavjere Vatrenih Ćelija, to je slijedeće: anarhistički ustanak se sprovodi sa svakim mogućim sredstvom, bio on knjiga, bomba ili politička egzekucija. Mogu i ne biti dio ZVĆ ili Neformalne Anarhističke Organizacije, ali to ne znači da ja ne podržavam takav oblik djelovanja. Dalje od mene aforizmi o oružanoj borbi i fetišizam nenasilja.
Dakle, cilj mojeg hapšenja je izoliranje oružanih grupa od javnog širenja istih, i uništenje mosta između nadzemnog i podzemnog dijela neprekidnog anarhističko ustanka.
Na kraju. Želim reći da neću imati ni rođake ni prijatelje za svjedoke obrane, koji bi govorili kako sam dobar dečko itd., zato jer pri političkoj optužbi jedinu obranu koju prihvaćam je moje vlastito promicanje mojeg političkog djelovanja.
Spyros Mandylas
4. juni 2014.
Izvor: InterArma