Titolo: ZATVOR KORIDALLOS - ATENA [GRČKA]: PORUKA ZATVORENIH ČLANOVA ANARHISTIČKE GRUPE URBANE GERILE "ZAVJERA VATRENIH ĆELIJA" POVODOM 11. JUNA - MEĐUNARODNI DAN SOLIDARNOSTI I DJELA ZA ANARHISTIČKE ZATVORENIKE DILJEM SVIJETA
ZATVOR KORIDALLOS - ATENA [GRČKA]: PORUKA ZATVORENIH ČLANOVA ANARHISTIČKE GRUPE URBANE GERILE "ZAVJERA VATRENIH ĆELIJA" POVODOM 11. JUNA - MEĐUNARODNI DAN SOLIDARNOSTI I DJELA ZA ANARHISTIČKE ZATVORENIKE DILJEM SVIJETA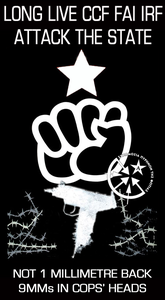 Zatvor posjeduje tu strašnu sposobnost da ostavi svoje neizbrisive tragove na tijelima i umovima svojih prebivatelja.
Tragove tuge, frustracije, nasilja, gušenja, tjeranja. Vrata koja se nastavljaju zatvarati i otvarati svaki dan u isto vrijeme, uz isti odvratni zvuk u monotonom ritmu ubitačne rutine koja uštrcava svoj otrov nepokretnosti i oholosti polako i bolno.
Kratki opis distilacije sepse koju proizvodi zatvor je dovoljan da shvatite mržnju koju osjećamo prema zatvorima.
Zato svaki put kada plan bijega uspije, svaki put kada zatvorski službenik ima neočekivani posjet, svaki put kada zatvorski upravitelj ili policijski narednik plati cijenu svojeg prezrivog izbora, naša se srca ispune jedinstvenim osjećajem radosti i zadovoljstva. Zato što osveta za zatočeništvo može pomoći samo kada se otjelovi kroz neprekidan napad na predstavnike zatvora.
Ako danas nešto nedostaje to nije bezopasno brbljanje, nego predivni i hrabri izbori drugova kako bi se kreirale točke organiziranog napada, kako bi se odgovorilo dinamički na pepeo koji je ostao iza represije, kako bi se potvrdila anarhija naspram njenih neprijatelja. Nedostaju strastveni razgovori za potrebno djelovanje koje trebamo izgraditi, za planiranje deregulacija, danas, sutra i dok god postoji ovaj svijet autoriteta koji nas okružuje.
Ono što danas želimo, svi mi koji osjećamo da nas guši suvremeni način život, ostaje zajedničko. Koordinirati i napasti šireće krakove države, kapitala, civilizacije, društvene apatije, svakidašnjeg bijega u gradovima. Bezbrojne neprijateljske slike u neprijateljskim šablonama života kojima, da bi ih uništili, trebamo izmijeniti ritam, pokret i mrski mir.
Jedini način za pokrenuti takav pokušaj započinje od svakog od nas osobno, od velikog izbora izokretanja naše osobne klepsidre kako bi zaustavili kretanje naših života u ritmu koji nam nameće vlast, i umjesto toga započeti od trenutka kada krenemo u napad, od naše želje da gledamo svijet reda kako gori jer smo mi podmetnuli vatru, koju potpiruje solidarnost.
Zato što je solidarnost trenutak, sila. To je sila koja se uzdiže iz unutarnjeg priznanja da smo svi mi dio anarhističkog sukoba s autoritetom. Priznanja da svi već sutra možemo završiti u zatočeništvu, na mjestu nekog današnjeg zatočenika. Priznanje koje predstavlja u biti jednu neraskidivu vezu između svih anarhista koji se bore protiv autoriteta, svatko na način koji sam odabere. Veza koja se ne smije prekinuti unatoč svim osobnim razlikama, unatoč individualnim nesuglasicama, taj osjećaj suučesništva je uvijek prisutan. Ne zaostaje. Ustraje i poprima različite oblike.
Transparent, plakat, požar u noći, zaglušujući zvuk eksplozije, prasak nekog autoritarnog smeća, djelo oslobođenja zatvorenika. Zato jer samo na taj način, samo tada, solidarnost je zaista naše oružje.
<em><strong>Zavjera Vatrenih Ćelija / FAI-IRF
Michalis Nikolopoulos
George Nikolopoulos
Panagiotis Argirou
Damiano Bolano
Theofilos Mavropoulos</strong></em>
Izvor: 325