Titolo: GRČKA: EVI STATIRI I ATHENA TSAKALOU, ČLANOVI OBITELJI ZVĆ, NE MOGU PRISUSTVOVATI VLASTITOM SUĐENJU
GRČKA: EVI STATIRI I ATHENA TSAKALOU, ČLANOVI OBITELJI ZVĆ, NE MOGU PRISUSTVOVATI VLASTITOM SUĐENJU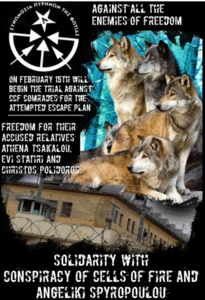 Nešto zaista neshvatljivo se zbiva oko suđenja za pokušaj bijega iz zatvora Korydallos, protiv Zavjere Vatrenih Ćelija...
Dvoje od okrivljenika, Athena Tsakalou i Evi Statiri ne mogu biti prisutne u sudnici tokom suđenje zbog određenih mjera ograničenja koje su im nametnute nakon uvjetnog otpuštanja iz pritvora.
Već se tri puta desila ista stvar: sudac ih prozove imenom kako bi zabilježio njihovo prisustvo i svaki put uslijedi isti dijalog. Advokati obrane moraju objasniti da se obije žene nalaze na uvjetnoj slobodi i da ako prekrše mjere ograničenje ponovno će biti uhapšene. Mjere ograničenja su za Athenu Tsakalou, koja živi na otoku Salamina, kućni pritvor, a Evi Statiri pak nije dozvoljeno udaljiti se više od 1 km od kuće.
Od početak procesa, mada suđenje još nije započelo, Christos Tsakalos je iznio svoju zabrinutost o ovom apsurdu, a danas je njegov brat, Gerasimos, izjavio da suđenje neće započeti dok njegova majka i žena ne budu prisutne.
Advokati obrane su se u više navrata obratili sucu sa zahtjevom o dogovoru kako bi okrivljene mogle prisustvovati suđenju, ali je sudac izjavio da to ne spada u njegovu nadležnost.
Dok se očekuje odluka koja će odlučiti da li će moći prisustvovati vlastitom suđenju - i naravno, postoji pitanje kako to dostići u ovakvim okolnostima - one, već uhapšene i zatvorene, sada se nalaze u novom režimu zatočeništva, koje im oduzima pravo da prisustvuju vlastitom suđenju. Athea Tsakalou je i dalje u kućnom pritvoru, a Evi Statiri se morala podvrgnuti štrajku glađu kako bi bila otpuštena iz zatvora.
Godinu dana nakon stupanja na snagu novog zatvorskog zakona, zakon koji je Syrizina vlada prihvatila kao "napredan" korak prema "vrednovanju prava zatvorenika", nije se u stvari ništa promijenilo. Represija je oštra, lov na vještice u slučajevima oružanih organizacija nastavlja se kao uobičajeno, ljudski odnosi se kriminaliziraju, a režim izolacije je uspostavljen, dok se optuženi danas moraju boriti za pravo prisustvovanja vlastitom suđenju!
Izvor: 325