Titolo: GRČKA: "NEPREKIDNO KRETANJE PREMA SLOBODI..." - CHRISTOS TSAKALOS, ZATVORENI ČLAN ANARHISTIČKE GRUPE URBANE GERILE ZAVJERA VATRENIH ĆELIJA
GRČKA: "NEPREKIDNO KRETANJE PREMA SLOBODI..." - CHRISTOS TSAKALOS, ZATVORENI ČLAN ANARHISTIČKE GRUPE URBANE GERILE ZAVJERA VATRENIH ĆELIJA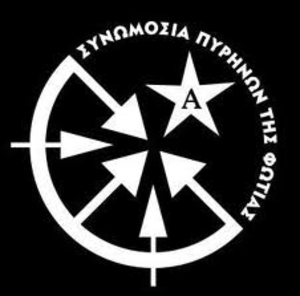 15. februara započelo je suđenje za plan bijega Zatvora Vatrenih Ćelija. Pod suđenjem je 28 osoba, uključujući članove naše obitelji i druge osobe koje nemaju veze s tim slučajem.
Kao Zavjera Vatrena Ćelija preuzeli smo odgovornost za plan i njegovu praktičnu/tehničku pripremu (oružje, eksplozive, rakete, ukradena vozila) pronađenu u skrovištu organizacije.
No, odgovor na pitanje što nas je navelo na bijeg, suci i panduri neće pronaći ni u pronađenom oružju, ni u eksplozivu, ni u dešifriranim porukama.
Svatko tko čuje zveckanje okova na sebi, lanaca nazvanih sloboda, može pronaći odgovor. "Sloboda" koja je zamijenjena kablovima, uređajima i ekranima... "sloboda" koja nosi masku sretnog roba... Ali iza maske se ne nalazi ništa stvarno...
Život je gušenje ucjenom financijske tiranije, potplaćenim znojem u tamnicama rada, to su pendreci, suzavci i metci represije...
U međuvremenu, s neba pada smrt s bombama koje pretvaraju čitave zemlje u masovne grobnice, mala djeca se utapaju na obalama Egejskog mora i na tisuće osoba ugurava se u koncentracione logore...
Istovremeno, laž se pretvara u istinu kroz novinarsku propagandu, tehnologija kontrolira naše trenutke i emocije, spektakl blještavo oblači našu samoću, i Zapadni čovjek postoje krvnik i žrtva vlastite amnezije, pošto zaboravlja što znači slobodan život. To je odgovor ne samo na pitanje zašto bi netko trebao pobjeći iz zatvora, nego i zašto bi postao bjegunac zakonskog života poslušnog bića...
Ta razmišljanja su potaknula naš izlaz. Kad bi mogli, prokopali bi za naš bijeg zidove vlastitim noktima i iskopali oružje u svrhu slobode i revolucije. I nema veze koliko pokušaja će propasti ili koliko će se glava slomiti o zatvorske rešetke, na koncu će rešetke popustiti.
Zato što se naslijeđe ne može brojati ni oružjem ni eksplozivom, nego vjerovanjem da se ovaj svijet mora uništiti, kako bi dozvolili slobodi da procvjeta...
I suci i panduri znaju našu tvrdoglavost... Zato su odabrali da uzmu članove naših obitelji kao taoce. Kako bi nas emocionalno ucijenili i zavili nas u tišinu. Ali, neće nikada doći do prekida vatre između nas i moći...
Pravosudne vlasti na 10.000 stranica spisa pokušavaju svoje laži učiniti uvjerljivijim lažima te su pozvali 20 svjedoka (od kojih je polovica njih iz antiterorističke jedinice) da bi to potvrdili. Optužuju moju majku, Evi (ženu mog brata) i Christosa (brata druga C. Polydorosa) za članstvo u "terorističkoj organizaciji ZVĆ".
Njihova su krivicu naredili u palačama moći. To je primjer arogancije moći koja misli da igra bez protivnika.
Suđenje je polje borbe... U kratko, moramo nasilno prekinuti napad željezne represije koja, budući da nas ne može pokoriti, cilja na naše osobe.
No, izazov nije samo srušiti pravosudni udar koji nas ucjenjuje progonom članova naših obitelji, nego i preseliti strah u domove neprijatelja. Tamo gdje misle da su neranjivi. I ako put marširanja represije već odzvanja... vrijeme je da se naše oružje čuje.
"Jednog dana morat ćemo sve staviti na kocku", protiv svih naših jučerašnjih odgađanja, bez oklijevanja isprsiti se pred našim krvnicima... ili mi ili oni...
Odsutnost briše ljude... ali postoje oni koji su odsutni zbog egzila ili je njihova "Sloboda" ograničena na jedan kilometar, a prisutni su u našim srcima... Osobe kao što su Atena, Evi te Christos, zato što je danas ostati čovjek samo po sebi čin hrabrosti...
Naš dan će stići...
<em><strong>Christos Tsakalos - Član Zavjere Vatrenih Ćelija / F.A.I.
</strong></em>
Izvor: 325