Titolo: GRČKA - UK: MEĐUNARODNI POZIV NA SOLIDARNOST S ANARHISTOM BABIS TSILIANIDISOM
GRČKA - UK: MEĐUNARODNI POZIV NA SOLIDARNOST S ANARHISTOM BABIS TSILIANIDISOM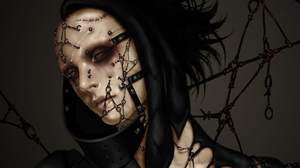 Ovo je tekst drugova iz Soluna gdje se održala skupština već planirana za prizivni sud druga, pozivajući sve drugove koji mogu i žele realizirati akcije u svojim gradovima. Drugarski, inicijativa drugova iz Soluna.
Januar 2011.
Anarhist Babis Tsilianidis uhapšen dok je bio u ilegali, s još tri druga, u okviru policijske operacije u Ateni, i odveden u zatvor.
Optužen je (osim potjernice na njegovo ime za podmetanje požara vozilu nacionalne električne kompanije i zločinačku organizaciju) na temelju antiterorističkog zakona (različita posjedovanja oružja i pripadanje anonimnoj terorističkoj organizaciji). Babis je odbio surađivati s vlastima, nije svjedočio i nalazi se u zatvoru Koridallos zbog oba slučaja.
Novembar 2011.
Drug, dok se nalazio u zatvoru Koridallos, pozvan je po treći put na ispitivanje kako bi svjedočio na novom slučaju. Radi se o oružanoj pljački na financijskom odjelu bolnice Ahepa u Solunu.
Nova optužba se temelji na marami pronađenoj pokraj mjesta gdje se odvila pljačka, na kojoj se, po pandurima, nalazi Babisov DNK izmiješan s tragovima tuđih DNK.
"Unaprijeđenje opresivne strategije nas ne bi trebalo iznenaditi, pošto su znanost i tehnologiju, koje uvelike doprinose usponu autoritarne civilizacije, oduvijek koristili država i moć. Mi kao anarhisti se ne bi trebali gubiti u zahtjevima državi za održavanje naših prava, budući da to podrazumijeva i obaveze prema istima, ugovor koji trebamo i želimo uništiti."
Održava se suđenje za slučajeve Atene i Soluna, Babis se nije pojavio i izražava svoje mišljenje o slučajevima putem javnih tekstova. U oba suđenja optužnice su odbačene i preostaje samo nekoliko manjih optužbi (sastavljanje bande i suučesništvo u požaru, te obično posjedovanje oružja u drugoj, s kaznom od četiri godine). U tom se trenutku desilo slijedeće: glavni sudac, za presudu koja čak ne predviđa izdržavanje kazne, oduzima Babisu stvarno vrijeme njegovog zatvora. Presuda na kaznu bez zatvora je ona koju možeš otkupiti kaucijom ili možeš dobiti uvjetnu slobodu (kao što se desilo) do priziva, pošto se radi o vrlo maloj presudi. Za Babisa kao da je zatvor počeo iz početka 5. decembra 2012....
Januar 2013.
Suđenje za pljačku se odvilo u Solunu. Babis se nije pojavio pošto je već izjavio:
"... za naše ćemo neprijatelje uvijek biti krivi zbog našeg nastojanja da ispunimo naše želje za slobodnim životom, da sami definiramo naše živote, kako na individualnom tako i na kolektivnom nivou, u skladu s prirodom, daleko od mreža autoriteta, kontrole i posredovanja, daleko od odnosa koji reproduciraju hijerarhije; od opresije i izrabljivanja, daleko od ovisnosti o "stručnjacima". Pokušaj, borba koja nadilazi uništenje kapitalizma, kao i svaki oblik upravljanja autoritarnom civilizacijom."
U sudnici, pošto nijedan svjedok nije prepoznao Babisa i pošto je biolog-kemičar objasnio da se DNK, pogotovo ovako izmiješan, ne može upotrijebiti kao dokaz, sudac je po naredbama svojih nadležnih odlučio: 10 godina-4 mjeseca, jer kao što je tužitelj izjavio: "da je nevin bio bi dobrovoljno dao DNK" i "da je nevin bio bi došao na sud da to i dokaže".
Babis je postao prvi anarhist na grčkom području osuđen samo na temelju "primjerka" DNK. Od tada će se povijest ponavljati i DNK će biti dovoljan "svjedok optužbe" koji će odvesti još "devijantnih" u zatvore demokracije.
Danas se Babis Tsilianidis još nalazi u zatvoru. Jedini slučaj koji ga u biti "još drži" je pljačka, ali ne može dobiti dopust, ili zatražiti prekid kazne zbog vremena koje je proveo u zatvoru zbog drugih slučajeva.
5. juna održat će se priziv na sudu u Solunu.
Izvor:Act For Freedom Now