Titolo: GRČKA: POSTER SOLIDARNOSTI IZ SOLUNA ZA DRUGOVE G.NAXAKISA I G.SARAFOUDISA
GRČKA: POSTER SOLIDARNOSTI IZ SOLUNA ZA DRUGOVE G.NAXAKISA I G.SARAFOUDISA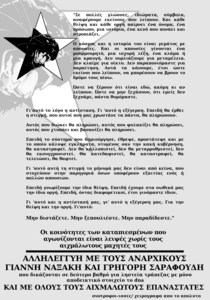 <em>U petak 9. oktobra započelo je drugostupanjsko suđenje na Žalbenom sudu u Loukareosu protiv okrivljenih anarhista G. Naxakisa i G.Sarafoudisa, za pljačku koja se odvila 2011. u Pirgetosu, Larisi. Na prvom su suđenju obojica osuđena na istu kaznu od 16 godina zatvora zbog pljačke, povećanu u kontekstu terorizma uz dokaz DNK koji je pronađen na dva pokretna predmeta.
Solidarni s naša dva druga.</em>
Na mnogim jezicima, idiomima, simbolima govorimo o onima koji nedostaju. I svaka tuga i svaki bijes dobiva jedno ime, jedno lice, jednu povijest, jednu prazninu koja boli i izruguje.
Svijet i njegova povijest su ispunjeni odsutnostima. I odsutnost postaje gunđanje, jedna snažna riječ, jedan plač ili urlik.
Mi ne urličemo zbog kajanja. Mi ne plačemo zbog milosti. Mi se ne žalimo zbog pomirenja.
Mi to činimo zbog onih koji nedostaju, kako bi pronašli svoj put povratka. Tako da znaju da su ovdje, iako ih nema. Tako da ne zaborave da mi ne zaboravljamo, mi se uvijek sjećamo.
To je razlog otpora. Ustanka. Zato jer će trenutak stići, oni koji nam duguju sve platit će. Tkogod proganja platit će, tkogod zatvara platit će, tkogod napada i muči platit će.
Zato što će sistem koji su stvorili, koji gaje, štite i kojim pokrivaju zločine, pod maskom loše vlade, biti uništen. Neće biti uljepšan, neće biti reformiran i neće biti moderniziran. Bit će srušen, bit će uništen, okončan i pokopan.
Zato naša poruka nema namjeru utješiti one koje pate zbog jedne ili više odsutnosti. Zato što dijelimo istu tugu. Zato što posjedujemo isti bijes u našem želucu. Zato što premda smo različiti, postajemo isti.
To je razlog našeg otpora, razlog našeg ustanka.
Zbog ustanka i bijesa.
Zato:
Ne oklijevaj. Ne odustaj. Ne predaj se...!
Zajednice potlačenih koje se bore se bez svojih taoca boraca.
SOLIDARNOST S ANARHISTIMA GIANNISOM NAXAKISOM I GRIGORISOM SARAFOUDISOM, kojima se sudi na žalbenom sudu za pljačku banke s DNK uzorcima kao jedinim dokazima.
I SA SVIM TAOCIMA REVOLUCIONARIMA
<strong>Drugovi,
Rukopis iz Apsolutnog</strong>
Izvor: Act For Freedom Now