Titolo: ČILE: VIJESTI O PRAVOSUDNOJ SITUACIJI JUANA FLORESA, NATALY CASANOVE, ENRIQUEA GUZMANA I GUILLERMA DURANA
ČILE: VIJESTI O PRAVOSUDNOJ SITUACIJI JUANA FLORESA, NATALY CASANOVE, ENRIQUEA GUZMANA I GUILLERMA DURANA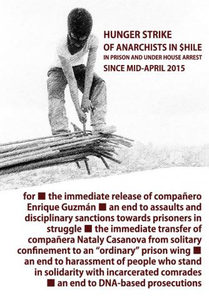 28. aprila održano je ročište sudskog procesa protiv drugova Juana Floresa, Nataly Casanove, Enriquea Guzmana i Guillerma Durana, optuženih za postavljanje i detonaciju različitih eksplozivnih naprava, i za pokušaj postavljanja drugih u Santiagu. Drugovi su započeli štrajk glađu između 13. i 14. aprila. Na ovom ročištu tužilaštvo i tužitelji, pravni i fizički, izmijenili su tužbe, dodajući novi optužbe.
Nataly je optužena za sudjelovanje u izradi naprave koja je eksplodirala na 1. Komesarijatu Santiaga, pošto javno tužilaštvo i policija tvrde da su pronašli DNK drugarice među ostacima eksploziva. Isti tvrde da su bili prisutni i tragovi Juana i Enriquea među tim ostacima. Osim toga, optužena je, bez ikakvog dokaza, i za eksploziju u 39. Komesarijatu Bosquea, a tome je dodana i optužba za postavljanje i detoniranje naprave u podzemnoj željeznici Los Dominicos te za pokušaj atentata, na osnovu sumnjivih dokaza pronađenih tokom pretresa njenog doma.
Drugarica se i dalje nalazi u pritvoru u zatvoru San Miguel.
Juanu je također izmijenja optužnica te je dodatno optužen i za sudjelovanje u eksploziji u podzemnoj željeznici Subcentro, Vojna Škola, gdje je ranjeno 14 osoba, što znači 14 novih optužbi, za nanošenje težih i lakših ozljeda, pokušaj ubojstva, a sve to kao terorističko djelo. To dozvoljava tužiteljstvu korištenje antiterorističkih zakona za povećanje kazni i različitih trikova, kao što su tajni svjedoci, zamke istrage koje nose teret zatvora za naše drugove. Zadržane su optužbe za sudjelovanje u napadima na 1. Komesarijat, na Los Dominicos i za pokušaj atentata.
Enrique je optužen za navodno sudjelovanje u postavljanju naprave i njene eksplozije u 1. Komesarijatu, gdje su javno tužilaštvo i tužitelji koristili svoje upitne video i DNK dokaze da bi održali svoje optužbe i druga u zatvoru. I on je optužen za pokušaj atentata zato što je pronađeno nekoliko predmeta koji su, po riječima tužilaštva, mogli poslužiti za izradu naprave (ugljen, sumpor, aparat za gašenje požara, kablovi itd.).
Drug je prošlog četvrtka prekinuo štrajk glađu zbog fizičke i emocionalne iscrpljenosti.
Za Guillerma je zadržana optužba za pokušaj atentata i mjera kućnog pritvora. Na ročištu obrana je zatražila da se drugu dozvole liječnički pregledi u ambulanti na području stanovanja, zbog štrajka glađu, što je sudac i prihvatio, unatoč ljutitim prigovorima tužilaštva.
Na ročištu se govorilo o premještaju Nataly, koja se nalazi u izolaciji, na drugi odjel, jer su uvjeti stroži zbog neprekidnog nadzora stražara.
Obrana je izrazila potrebu za ukidanjem tih bolesnih mjera Žandarmerije, dok su javno tužilaštvo, tužitelji i advokat zatvora podržali takve mjere, u toku protiv drugarice. Sud je odlučio da se ta odvratna situacija nastavi. No, treba reći da je u četvrtak, 23. aprila, drugarica premještena u toranj 1 zatvora San Miguel, gdje i dalje ostaje u istim uvjetima izolacije, ali na tom odjelu nadzor stražara nije toliko invazivan, koji slobodno ulaze u njenu ćeliju pošto nema lokota i brava, pripremajući tihe zasjede.
Izvor: http://porlaanarquia.espivblogs.net/2015/05/01/chile-actualizacion-de-la-situacion-de-lxs-companerxs-nataly-casanova-juan-flores-guillermo-duran-y-enrique-guzman/
via RadioAzione