Titolo: MAKEDONIJA: KOMENTAR ANARHISTIČKOG WEB-SAJTA KONTRAINFORMACIJE "ZAGOVOR NA EDNAKVITE" NA ŠTRAJK GLAĐU U GRČKOJ
MAKEDONIJA: KOMENTAR ANARHISTIČKOG WEB-SAJTA KONTRAINFORMACIJE "ZAGOVOR NA EDNAKVITE" NA ŠTRAJK GLAĐU U GRČKOJ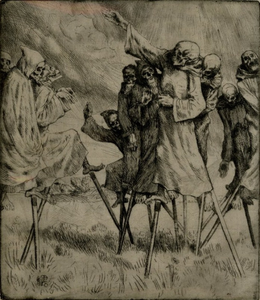 Text in English version: Comment about the hunger strike
Testo in versione italiana: RadioAzione [Italia]
Smatramo da je u ovom trenutku nužno da barem nakratko skrenemo pozornost na neka pitanja koja proizlaze iz konteksta štrajka glađu ZVĆ i koja su nadasve iznikla iz njihove podrške zahtjevima "Mreže borbenih zatvorenika (DAK), koju sačinjavaju i neki anarhisti.
I pokraj toga što postoji historijska praksa anarhističkih zatvorenika da prosvjeduju raznim sredstvima za zahtjeve koji nisu od suštinske važnosti, no koji će im neposredno olakšati boravak u zatvoru i malo im olabaviti lance na koje su osuđeni, kontradiktorno je da anarhisti koji se zalažu poptpuno uništenje poretka kao takvog, traže ukidanje konkretnih zakona, odnosno da pokušavaju uvesti institucionalne promjene da bi poboljšali svoj položaj. To čini "Mreža borbenih zatvorenika" (DAK) u Grčkoj, a njihove zahtjeve je podržala Zavjera Vatrenih Ćelija. Zbog toga, bilo je i za očekivati da će se pojaviti negodovanja i kritike o ovim zahtjevima, te pokušaj da se otvori rasprava o pitanju reformističkih zahtjeva koje traže anarhisti. To je pokušao učiniti talijanski web-site kontrainformacije RadioAzione ("Orwellijanski", "Jasnije od ovog ne može", "Razmatranja o anarhiji"), otvarajući pitanja kao što su: da li zahtijevati ukidanje određenih zakona (ili čak samo njihovih članaka) znači da se ne zahtjeva ukidanje SVIH zakona i poretka kao takvog, odnosno da li to znači da su neki zakoni dobri i treba da ih prihvatimo, za razliku od nekih drugih?
Činjenica je da neki zakoni osobito žestoko otežavaju život zatvorenika, međutim njihov položaj je rezultat cjelokupnog političko-tehnološko-ekonomskog sistema i odnosa unutar njega, koji stvara zatvorenike, vladare i podređene, eksploatatore i eksploatirane, krvnike i utamničene. Ova i druga pitanja nažalost ne nailaze na odaziv u virtualnom svijetu kontrainformacije, osim hrvatske verzije RadioAzione ("De Profundis Clamavi"), koji je između ostalog izjavio (Izjava o zahtjevima za ukidanje zakona): "zato što Anarhija kao što ne traži ukidanje rada, već je u potrazi za njegovim uništenjem, tako ne traži ukidanje zakona, nego uništenje njih i svih struktura i osoba koji ih provode."
Mi, s naše strane, iako ne prenosimo aktivno zbivanja o toj specifičnoj borbi, ne želimo je ni potpuno ignorirati, nego umjesto toga uvidjevši i sami kontradiktornosti u zahtjevima za ukidanje zakona, i nadasve slažući se s kritikom da se web-sajtovi kontrainformacije pretvaraju u novinske agencije (plašeći se otvoriti pitanja da se ne zamjere ovima ili onima, samo tiho i bez stava prenose vijesti i pisma), ovime bi željeli pridonijeti otvaranju rasprave o nekim očigledno spornim pitanjima među anarhistima, uključujući i ova u vezi zahtjeva štrajkaša "Mreže borbenih zatvorenika".
Ova zabilješka neka bude pokušaj za otvaranje takvog prostora na našem web-sajtu, kako za kritiku tako i za autokritiku. Ubrzo ćemo se nadovezati produbljenjem ovih površno začetih pitanja, no i nekih drugih, u nadi da se razvije kritika i otvori prostor za razmjenu ideja i mišljenja na anarhističkim sajtovima kontrainformacije, a ne samo za prosto prenošenje informacija, kao što je to u najvećem broju slučajeva.
Заговор на еднаквите
30.03.2015
Izvor: Zagovor na Ednakvite