Titolo: ZATVOR FERRARA [ITALIJA]: IZJAVA ANARHISTIČKIH ZATVORENIKA S ODJELA VISOKOG NADZORA
ZATVOR FERRARA [ITALIJA]: IZJAVA ANARHISTIČKIH ZATVORENIKA S ODJELA VISOKOG NADZORA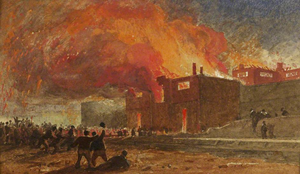 Drugovima vani, 14. februar 2015.
Samo nekoliko riječi da vas izvijestimo što se zbiva na odjelu AS2 [visokog nadzora, nap.prev.] u Ferrari. Nemamo nikakvih namjera/želja da hranimo divlji apetit obožavatelja žrtve ili profesionalnu antizatvorsku ulogu, u posjeti posljednjem jecaju zatvorenika.
U petak 13. Alfredo je podvrgnut zatvorskom sudiću, zbog prijave koja je protiv njega podignuta noć prije, zato što je izvrijeđao jednog stražara koji se njemu bezobrazno obratio, a provocirao drugog od nas, Graziana, kriv što je od hulje zatražio da stiša ton. Informacije radi, sve se odvilo nakon ponoći. Osim što je izgubio 45 dana prijevremenog otpusta, "osuđen" je i na izolaciju, u koju je odmah odveden, ili kako bi oni rekli, na isključenje iz svih zajedničkih aktivnosti (dvorište, društvo, vježbaonica). Čim smo to saznali, nakon kratke konzultacije, započeli smo snažno lupati. Zahtjev je jednostavan: hoćemo Alfreda natrag na odjel. U roku od par minuta stigli su razni inspektori, kojima smo ponovili naš zahtjev. Nakon nekoliko beskorisnih priča, otišli su obečavajući nam (po njima) najveću čast: "u ponedjeljak ćete razgovarati s komandantom" (zaboli nas!)
Budući da se činilo kako nisu shvatili što smo rekli, možda zbog pomalo uzrujanih tonova, nakon sat vremena odlučili smo da krenemo s još jednim lupanjem, i okončali smo dan s jednim lupanjem by night, kada je otkucala ponoć. Danas, rano popodne, ponovno smo prešli preko rešetaka, vidjet ćemo sutra...
Za sada smo "postigli" zabranu druženja ("sve do nove naredbe") za vrijeme ručka i popodne, ali Alfreda i dalje ne vidimo...
Znamo da je dobro i da ga naveliko zaboli za njihove kazne, kao što se nama jebe za njihove ucjenice i neprobavljive povoljnosti.
Tvrdoglavi smo i nastavit ćemo izražavati našu bliskost i suučesništvo s Alfredom.
To je sve, javit ćemo se s novim vijestima!
<strong>Anarhistički drugovi s odjela AS2 u Ferrari
Adriano, Francesco, Graziano, Lucio, Michele e Nicola</strong>
*NOVE VIJESTI, 19.02.2015., IZ TELEFONSKOG RAZGOVORA JEDNOG ČLANA OBITELJI ZATVORENIKA DOZNAJEMO DA IM JE NAKON PROSVJEDA PONOVNO DOZVOLJENO DRUŽENJE NA ODJELU. ANARHISTIČKI CRNI KRIŽ