Titolo: GRČKA - UK: 10. DECEMBAR 2014., S. IZ ACT FOR FREEDOM NOW! NIKOSU ROMANOSU
GRČKA - UK: 10. DECEMBAR 2014., S. IZ ACT FOR FREEDOM NOW! NIKOSU ROMANOSU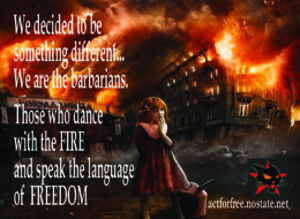 Od danas 12.12.2014. anarhist Nikos Romanos je zaoštrio svoju borbu ulazeći u štrajk žeđu i insistirajući na svojim zatjevima.
"Njegov život sada visi o koncu", izjavo je kardiolog, nadodajući da: "Njegov organizam je oslabljen i dehidriran. Ako se to nastavi doći će do ograničenog funkcioniranja organa i bit će u neposrednoj opasnosti otkazivanja brojnih organa."
Na liječnike je vršen pritisak da bi ga prisilno hranili, ali oni pružaju otpor i bore se kako bi slijedili liječničku etiku. Romanos je pobijedio.
Nema veze što će uslijediti, kako će daleko on stići, da li će živjeti ili umrijeti. Meni nije njega žao, čak da umre neće mi ga biti žao...
Ja ga poštujem.
Da sam bio u borbi bio bih ga želio imati na svojoj strani, ne kao neprijatelja.
Ne zanima me koliko godina ima.
On nije dijete.
On je osoba slobodne volje, nešto čega se ostatak nas kloni ili je pak to razvodnilo.
Taj jebeni Romanos, anarhist, kriminalac, svojeglav (zovite ga kakogod želite, njega ionako zaboli za to), je stavio svoje tijelo pred čudovište koje nazivamo Grčka Demokracija, grozotu moderne globalizirane stvarnosti.
Sam, jedno ljudsko biće od krvi i mesa, sam, protiv svih.
On nije ni heroj ni mučenik, niti štiti prava onih s punim stomakom koji se virtualno brinu za njega u parlamentu, u kafićima i na facebooku.
On ne uzvikuje "kruha, obrazovanja, slobode" na okupljanjima godišnjica i na beživotnim štrajkovima, da bi se kasnije jele kokice i gledalo posljednji film Kena Loacha.
Ne, njega ne zanima da bude "obrazovan" na Institutu naše bijede.
On je u ovom trenutku jedina osoba, u jednoj Pustoj Zemlji, koja želi sve! Više nije važno da li će ustuknuti, da li će ga liječnici spasiti, da li će premijer i ministri ustuknuti.
Romanos, jedna osoba sama pobijedila je čitavu naciju.
Bez ubojstva, bez bacanja pametnih bombi, bez slave, da bude izabran u parlament, bez da preda jednu zemlju MMF-u.
Sam. U zamjenu za svoj život.
Koliko vas, nas, ima snage, muda, da to učini?
Koliko je vas spremno umrijeti za svoje ideje (ako uopće imate neku), koje mogu biti i pogrešne?
Umrijeti za Novu Demokraciju, Syrizu i KKE, umrijeti za policiju, državu, Anarhiju, Pravoslavnu vjeru, Demokraciju, Tržište, Literaturu, Ekologiju, Pravdu ili za plavente kitove iz ocena.
Krenite a zatim, dajte vaše živote.
Možete li?
Tko može umrijeti za ono u što vjeruju i za ono što vole?
On, kriminalaca i anarhist Romanos bi to učinio, i spreman je da to učini. I možda se vama čini glupo, ali ovaj svijet su izmijenile osobe koje su vjerovale u nešto toliko jako da su bile spremne umrijeti za to.
A to je teško prihvatiti za osobu koja, kao ja, ne vjeruje ni u što.
Nikos Romanos nije ništa jeo 32 dana.
Ja i vi pokušavamo biti na dijeti kako bi izgubili kile viška, ali ne može izdržati.
Ne radi o tome tko je u pravu a tko u krivu, tko je dobar ili loš, i što se nalazi između.
Romanos je tamo.
Sam i poražen,
Ali on je pobijedio, vi gubitnici.
On je pobijedio.
Sam.
S. iz Act for freedom now!
p.s. Nikos Romanos je okončao svoj štrajk glađu nakon 31 dan, 10. decembra 2014.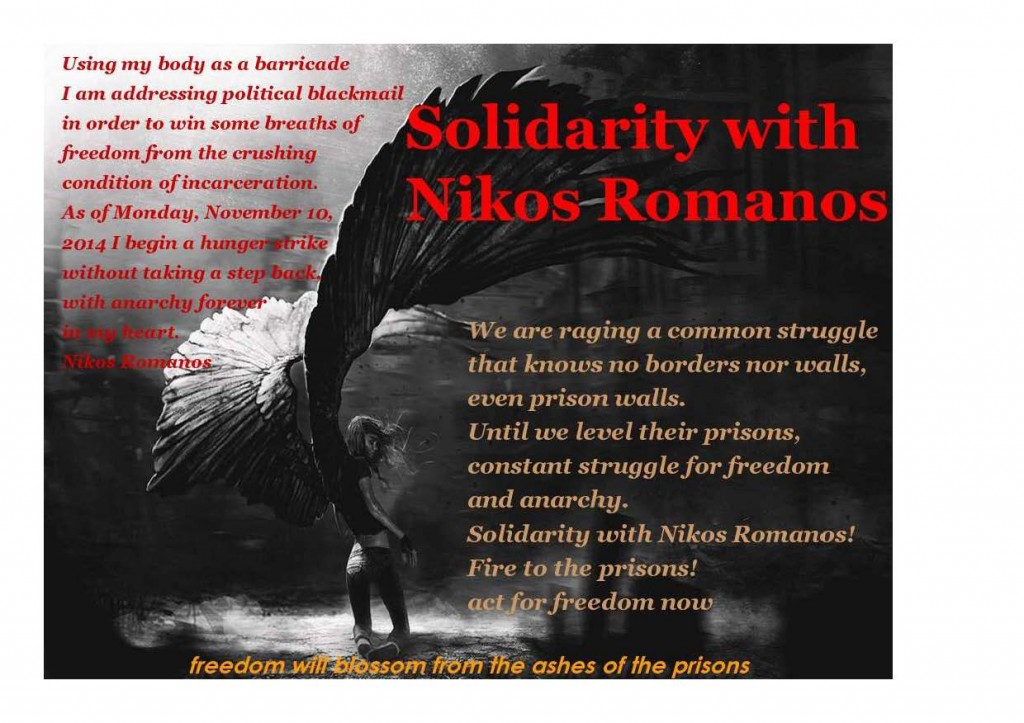 Izvor: Act For Freedom Now