Titolo: PIREJ [GRČKA]: OTVORENO PISMO IZ BOLNICE DRUGA YANNISA MICHAILIDISA, U ŠTRAJKU GLAĐU OD 17. NOVEMBRA
PIREJ [GRČKA]: OTVORENO PISMO IZ BOLNICE DRUGA YANNISA MICHAILIDISA, U ŠTRAJKU GLAĐU OD 17. NOVEMBRA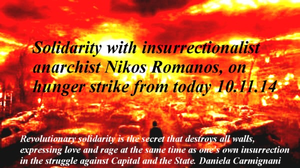 Pišem ovih nekoliko riječi kako bih izrazio koliko me dirnula široka i raznolika solidarna aktivnost drugova izvan zidova zatvora. Ne samo zato što je njena proširenost, maštovitost, organizacija-koordinacija, ustrajnost i agresivnost uvelike nadišla moja očekivanja, znajući da su značajne zgrade države i kapitala, televizijske i radio postaje okupirane, da su organizirani skupovi i prosvjedi u svim većim gradovima teritorija, te izvršeni napadi na snage represije, kao i drugi ustanički napadi različitog karaktera. Već i zato što upravo to razbija samoću moju ćelije i donosi mi osmijeh, zato što u srijedu noć nisam bio u zatvoru, bio sam između vas i osjetio toplinu barikada u plamenu.
Zato jer, bez obzira na ishod, i samo postojanje ovog borbenog fronta predstavlja pobjedu samu po sebi, kako zbog neposredne perspektive ove borbe tako i zbog ostavštine koju ostavlja iza sebe.
Dobro znam da na tisuće drugova uključenih u ovu borbu koju je Nikos započeo, uz puno brige ali i mnogo odlučnosti, ima vrlo različita shvaćanja i prakse, kako međusobno tako i s nama. Međutim, napredovanje se rađa iz različitosti. To je pravo značenje anarhističke solidarnosti; ona povezuje bez da nas čini jednakima, ujedinjuje bez da homogenizira. A kada se radi o solidarnosti usmjerenoj ka akciji, funkcionira.
Danas kada mediji masovne obmane tvrde da nastavak štrajka glađu prijeti nacionalnoj sigurnosti, shvatio sam nijedna borba nije uzaludna, i da su se pukotine koje je otvorio očaj - uzrokovan produženom neaktivnošću u gušećim uvjetima zatvora - ponovno obojile znakovitim bojama; ustanak je uvijek pravodoban.
Naši snovi postat će njihovi košmari.
Borbena anarhija se probudila i urliče.
Ništa nije gotovo, sve počinje sada.
SOLIDARNOST S UHAPŠENIMA U NEREDIMA UTORKA
Nikosu:Brate, ostani snažan, do sada dobro poremetio njihovo slavlje. Ti se ne povlačiš, tako će morati i oni. Bit ću uz tebe sve do krajnje pobjede.
Athaniasou (ministru pravosuđa):
Vrlo sam gladan. Ako ti ubiješ Nikosa tvoje će grlo biti meni jedino dobro jelo.
Yannis Michailidis