Titolo: ŠPANJOLSKA: "RAZDVAJAJU NAS RAZDALJINE, SPAJA NAS OSJEĆAJ" - PISMO MONIKE CABALLERO
ŠPANJOLSKA: "RAZDVAJAJU NAS RAZDALJINE, SPAJA NAS OSJEĆAJ" - PISMO MONIKE CABALLERO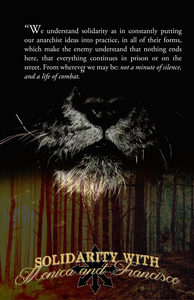 Približavaju se dani ispunjeni osjećajima. S jedne strane približava se godišnjica gubitka nezamjenjivog Sebastiana, u decembru, a sada u novembru je godina dana otkad sam u zatvoru.
Sjećam se kad su mi javili za smrt Sebastiana, bilo je to kao vedro ledene vode (loše društvo u hladnim madridski noćima). Gubitak druga je uvijek strašan trenutak, sada se mogu sjetiti tog događaja i osjećati se ponosna da sam imala tako dostojanstvenog druga.
Sjetite se, braće i sestre, to je nužni zadatak za nas koji gradimo drugačiju zbilju, ako to nećemo učiniti mi, ostat će samo hrpa podataka u policiji i nekrolozi novinara. Smrt jednog/e antiautoritarca/ke u ovom ratu protiv postojećeg ne može biti samo razlog tuzi, poziva nas i da slijedimo njegov/zin primjer, a u mojem slučaju predstavlja beskonačnu radost sjećati se divnih života svih onih koji se nisu pokorili kako bi osvojili nebo.
<strong>Mada može izgledati da se ponavljam, Angry živi u našim sjećanjima.
Odvajaju nas razdaljine, spaja nas osjećaj</strong>.
Sada, dok se predajem sjećanjima, koristim priliku da kratko analiziram moju situaciju. Započet ću rezimeom mojeg hapšenja.
Dana 13.11.2013. policija je uhvatila mene i mojeg druga, te još 3 osobe; optužili su nas za postavljanje eksplozivne naprave, koja je eksplodirala u oktobru 2013., u bazilici Pilar (Saragoza), za zavjeru još jedne eksplozije, koja se trebala odviti kraj marijanskog samostana u Monserratu (Barcellona), i za pripadanje oružanoj bandi. Sve to na temelju antiterorističkog zakona.
Kažu da pripadamo organizaciji "Ustanički komando Mateo Morral", grupa koja je preuzela odgovornost za postavaljanje dviju naprava; jedne kraj katedrale Almudena (Madrid) i jedne u Pilar (Saragoza).
Začuđujuće, optužba uključuje i pripadanje FAI-FRI i GAC-u (koordinirane anarhističke grupe), mada u izjavama za preuzimanje odgovornosti ta dva akronima se uopće ne spominju.
Jedan od glavnih razloga koji je naveo španjolske represivne aparate na djelovanje su njihove čielanske kolege; otkad smo zakoračili na španjolsku zemlju (Francisco i ja) čileanska policija je učinila sve da bi se osvetila što je ismijana u "Slučaju Bombas", za koje smo oboje odriješeni krivnje. Riječi Sebastiana Piñera, koji je u trenutku našeg uhićenja bio predsjednik Čilea, upućene ministru Unutrašnjih poslova potvrđuju to što kažem.
Francisco i ja nismo optuženi samo da smo počinili ta djela. Čak su pravosudni aparati priznali da je optužba sasvim političke naravi, jedino u što su sigurni je da smo anarhisti.
Nisam nikad zanijekala ideje koje širim, i to kažnjavaju.
Ne ljubim križ pokajanja, hodam u miru uvjerena da se borim za najplemenitije ideale i da neće nikada pokoriti antiautoritarne ideje i metode.
<strong>Naoružajmo naše put, bez kompromisa i pregovora.
Nećemo se zaustaviti sve dok ne srušimo sve kaveze.
Smrt državi i živjela anarhija!
</strong>
Monica Caballero
(zatvor Brieva, novembar 2014.)
Izvor: Instinto Salvaje via RadioAzione