Titolo: POLJSKA: 3 ANARHISTA OPTUŽENA ZA POKUŠAJ PALJENJA POLICIJSKOG VOZILA (22./23.05.2016.)
POLJSKA: 3 ANARHISTA OPTUŽENA ZA POKUŠAJ PALJENJA POLICIJSKOG VOZILA (22./23.05.2016.)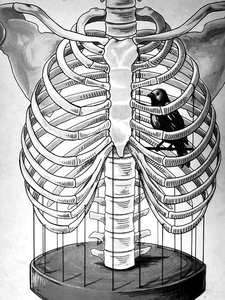 U nedjelju noć, između 22. i 23. maja, tri druga su zaustavljena pokraj parkirališta policijske stanice južne Varšave. Panduri tvrde da su pronašli eksplozivnu napravu ispod policijskog vozila. Sva trojica su zadržana u pritvoru na policijskoj stanici, dok je jedan ozbiljno pretučen. Drugovi su odbili surađivati i odbacili sve optužbe za "terorizam" i za pokušaj postavljanja bombe u policijsku stanicu. Dobili podršku anarhističke zajednice i 3 skvota iz Varšave (Przychodnia, Syrena, Radykalne Ogrody Działkowe) te im je dodijeljena pravna zaštita.
Istog je dana policija upala u skvot Radykalne Ogrody Działkowe, gdje je jedan od uhapšenih drugova stanova, i pokušala ga deložirati, u potrazi za dokazima. Po riječima web-sitea "Reclaim The Fields": "Panduri su stigli između 4 i 5 ujutro. Upali su prostor skvota nakon što su prerezali ogradu i srušili ulaz viljuškarom. Šest policajaca u civilu upalo je u sobe. Jedan se prijatelj probudio i otkrio da je okružen pandurima koji su tražili da se identificira. Nakon čega su pretresli čitav skvot."
Svi su varšavski anarhistički kolektivi objavili izjave u kojima odbacuju optužbe za terorizam koje su iznijeli službeni mediji, te solidarno podržali optužene drugove. Ponižavajuće slike 3 anarhista u lisicama i tokom alko-testa objavljene su u štampi.
Anarhistička zajednica Varšave naglasila je činjenicu da je reakcija medija na posljednje događaje samo pokušaj legitimiranja novog antiterorističkog zakona o kojem je raspravljala poljska vlada. Naglasili su i činjenicu da je oko prije dva tjedna jedan mladić imenom Igor pretučen na smrt u policijskoj stanici u Wroclawu te da pravosudni sistem štiti ubojice.
Anarhistička Federacija iz Poznana objavila je izjavu u kojoj snažno naglašava da "U ovim vremenima kada se državna moć rapidno usmjerava na autoritarnu ulogu i kada se uvjeti izvanrednog stanja svakog dana sve strože primjenjuju, pokušaj paljenja par policijskih vozila naziva se "terorizmom", a dvije boce napunjene benzinom nazivaju se "bombe". Radi se samo o pokušaju odvraćanja pažnje javnosti od očite policijske brutalnosti i zloupotrebe zakona." Drugovi iz Poznana podsjećaju sve na dramatičnu smrt rumunjskog zatvorenika, Claudija Crulica, koji je umro u krakowskom zatvoru nakon dva mjeseca štrajka glađu.
Još jedna izjava dolazi od Lukasza Bukowskog, našeg zatvorenog druga anarhista koji se nalazi iza rešetaka zato što je odbio platiti kaznu koja mu je određena kao sudska osveta protiv njegovog političkog djelovanja, pomažući siromašnim obiteljima da se odupru deložacijama u Poznanu. Napisao je: "Upravo je do mene stigla vijest o trojici drugova zadržanih u pritvoru u Varšavi, optuženih za takozvani bombaški napad na policijsku stanicu. Bez obzira na istinitost optužbi mi ih moramo podržati. Kroz povijest je borba za slobodu uvijek koristila različite metode i taktike kako bi se oduprla ugjnetavanju. Čak i ako ne podržavamo ustaničke taktike ne možemo osporiti učinkovitost i snagu solidarne podrške. To mi je poznato zato što sam i sam iskusio njenu snagu. Solidarnost je naše oružje."
Grecja w Ogniu iskazuje svoju solidarnost s uhapšenim drugovima koje je nasilno i ilegalno oteo državni režim, te su pretrpjeli fizički i psihički teror u pritvoru i kojima sada život ovisi o režimskim marionetama u uniformama.
Odvojene izjave bit će objavljene idućih dana.
Pozivamo na solidarno djelovanje i podršku trojici zatvorenika države!
Prokleti panduri, upamtit ćemo svaki vaš napad i agresiju na naše drugove!
Vječni rat protiv banaka, pandura i zatvora!
Izvor: Act For Freedom Now!