Titolo: ATENA [GRČKA]: ULIČNI SUKOBI
ATENA [GRČKA]: ULIČNI SUKOBI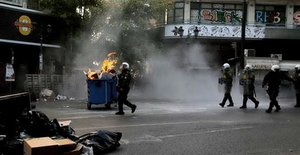 12. novembar
Izbili su neredi na ulicama središta Atene, 12. novembra, na dan općeg štrajka. Prije jutarnjeg prosvjeda, zamaskirani prosvjednici napali su grupu policajaca u uniformama koji su pješke patrolirali ulicu Patisson, kraj Arheološkog muzeja, i uspjeli su udariti barem jednog. Nešto kasnije, na trgu Omonola u market trgovačkog lanca Bazar, otvoren unatoč općeg štrajka, ubačeno je smeće te su odgovorni bili primorani da ga zatvore. Malo dalje, kraj stare zgrade parlamenta, zapaljen je kombi poduzeća za telekomunikacije OTE. Pobunjenici su uništili urbane predmete (stajališta autobusa, semafore itd.) i ispisali sprejom anarhističke slogane duž ulice Stadiou. Na trgu Syntagma interventne jedinice, koje su štitile luksuzni hotel Grande Bretagne u ulici Vasileos Georgiou, napadnute su zapaljivim bombama. Na dnu trga Syntagma, ministarsvo ekonomije napadnuto je i molotovima. Na gornjem dijelu trga, ispred parlamenta, skinuta je ogromna grčka zastava. Patritoti koji su je pokušali prisvojiti, pretučeni su (u više navrata), a zatim je njihova usrana krpa zapaljena. Brz napad molotovima izvršen je i na interventne jedinice kraj spomenika nepoznatom vojniku. Kada se već prosvjed približavao kraju, zgrada Grčke banke u ulici Panepistimiou napadnuta je vatrom, a došlo je i do sukoba s policijom kraj Propileja. To su samo neki od događaja kojima smo sami prisustvovali, uz ostale drugove. Nije došlo ni do hapšenja ni do ranjavanja prosvjednika.
Između ostalih zapaljivih slogana: "Organizirati na neformalan i ustanički način. Crni decembar čitavim planetom."
Neki pojedinci koji su su sudjelovali u sukobima u središtu Atene toga dana objavili su jedan tekst u kojem između ostalog tvrde: "12. novembra sudjelovali smo u općem štrajku, s jasnim ciljem sukoba; sukoba koji nije u kontekstu vraćanja radničkih prava ili bilo kojem obliku humanizacije sistema. Sukobili smo se u svrhu da damo vrijednost ustaničkom djelovanju, kako bi to djelovanje zaoštrili i pretvorili u dugotrajno, naspram svake institucije ili autoritarnih odnosa (...). Pozivamo na Crni decembar, na koordinaciju i ustaničku organizaciju, na raznovrsnu anarhiju. Priča bez djelovanje je siroče koliko i djelovanje bez rasprave. [potpisala] Jedna ulična grupa."
17. novembar
Ove godine 17. novembar je označio 30. godišnjicu ubojstva petnaestogodišnjaka Michalisa Kaltezasa, kojeg je smrtno ranio policajac Athanassios Melistas na pločniku ulice Stournari. 17. novembra 1985. Michalisa Kaltezasa ubio je policijski metak ispaljen u potiljak, dok je trčao prema trgu Egzarhija, uz druge anarhiste i pobunjenike, koji su bili zapalili policijski autobus interventnih jedinica.
17. novembra 2015., nakon godišnjeg sjećanja na pobunu iz 1973. na atenskoj Politehničkoj školi, protiv vojne diktature, i nakon što je mirni prosvjed u Ateni završen, nekoliko stotina maskiranih pobunjenika je sišlo na ulice Egzarhije i sukobilo se sa snagama policije, od oko 20 pa sve do kasno u noć. Pobunjenici su koristilii materijal na raspolaganju - kamenje, štapove, molotove, petarde itd. - pri napadu na interventne jedinice i na policajce u civilu. K tome, zapaljeno je i jedno vozilo u ulici Stournari. Te noći, usred barikada i oblaka suzavaca, pobunjenici su masovno napali market Bazaar u ulici Soultani, te u potpunosti opljačkali i vandalizirali dućan.
Minimanlno šest osoba je uhapšeno u središtu, tokom komemoracije i tokom noćnih sukoba.
Neki od slogana koji su uzvikivani tokom sukoba u Egzarhiji:
"Nema klečanja pred demokracijom - Zavjera Vatrenih Ćelija"
"novinari, podla gamad"
"panduri, svinje ubojice"
"Jedan - tri, Christos Tsoutsouvis" (u sjećanje na urbanog gerilca kojeg su ubila tri policajca 15. maja 1985. u Ateni, tokom pucnjave u kvartu Gyzi)
Izvješće drugova s "ALFA TV"