Titolo: SANTIAGO [ČILE]: ZAPALJEN AUTOBUS I POZIV NA "CRNI DECEMBAR"
SANTIAGO [ČILE]: ZAPALJEN AUTOBUS I POZIV NA "CRNI DECEMBAR"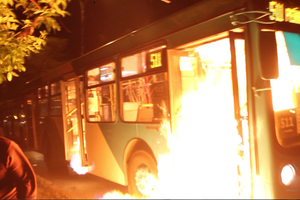 U petak 28. novembra odlučili smo da napadnemo vozilo javnog prijevoza u svrhu poziva na crni decembar akcije i solidarnih djela u sjećanje na anarhističkog druga Sebastiana Oversluija, ubijenog tokom neuspjele eksproprijacije banke, 11. decembra 2013. Nakon što smo zapalili vozilo aktivirali smo vatromet kako bi naš bijes i naša pobuna jače zasjali. Ovo smo djelo počinili i u znak solidarnosti s drugaricom Tamarom Sol Vergara, koja se trenutno nalazi zatočena u rukama moći. Ovo je naš način da kažemo kako nitko od naših mrtvih i zatvorenika nije zaboravljen, kako se za svako djelo neprijatelja naš bijes umnožava te se izražava kroz precizne akcije protiv moći.
U buržoaskoj štampi navedeno je djelo povezano s Telethonom. U biti, to nije bio cilj, naravno, ali u svakom slučaju protivimo se trgovanju tuđom nesrećom. Ovo je naš doprinos službenom odbrojavanju blagdanskog licemjerja. Pored toga, naglašavamo da prolazimo kroz trenutke velike napetosti, tri su osobe uhapšene zbog njihove navodne upletenosti u eksplozivnu napravu u podzemnoj željeznice, kraj Vojne Škole. Mada smatramo da to nije i nije bilo baš strateški, i da predstavlja više korak nazad neko doprinos, nećemo zbog toga prestati solidarizirati s onima koji će vjerojatno proći kroz jedno od najstrožih sudskih procesa tokom posljednjih godina.
Kao anti-autoritarci vjerujemo u uništenje zatvorskog društva i zato se sjećamo Nataly, Juana i Guillerma, kao i Hansa Niemeyera, Monike Caballero, Francisca Solara, Juana Aliste Vege, Carlosa Guiterreza Quidueloa, Marcela Villarroela i Freddyja Fuenteville. Ne zaboravljamo ni dva weichafe [ratnici Mapuche, nap.prev.] nedavno ubijena na području konflikata, na jugu, Joséa Quintriqueoa e Victora Mendozu Collìja. Sjećanje i borba u njihovo ime. Podsjećamo, osim toga, da su ovog tjedna uhapšene četiri osobe za posjedovanje eksplozivne naprave i za sukobe na ulici, šaljemo im iskreni zagrljaj solidarnosti i vatre, te koristimo priliku da podsjetimo kako treba poduzeti sve mjere opreza i predostrožnosti u akcijama kako bi izbjegli udare neprijatelja.
Vrijedi i precizirati da je po nama javni prijevoz jedan od načina na koji Država i Kapital omogućuju izrabljivanima i potrošenima ovog sistema da stignu do svojih otuđujućih radnih mjesta, kako bi izvršili obaveze koje nameće sistem, koji nastoji pokoriti naše živote sve do posljednje sekunde.
Zapaliti autobus znači smjesta dovesti u pitanje logiku strukture, znači sabotirati kretanje ljudske robe, prekinuti totalizirajući mehanizam grada. Naša se borba vodi za život, za slobodu i za zemlju, protiv mehanizma maštarija koje su nam kapital i spektakl nametnuli kao stil života, protiv napredovanja razvoja koji uništava sve što je lijepo i sve što je slobodno.
Pozivamo na crni decembar u sjećanje na druga Sebastiàna Oversluija.
Solidarnost i sloboda za Tamaru Sol Vergara, Hansa Niemeyera, Mónicu Caballero i Francisca Solara!
Snage drugu Nikosu Romanosu
Iskreni zagrljaj drugovima koji napali PDI
Mauricio Morales i Sebastian Oversluij prisutni!!!
Izvor: Contrainformate via RadioAzione