Titolo: ČILE: VIJESTI I PLAKAT SOLIDARNOSTI S NATALY I JUANOM
ČILE: VIJESTI I PLAKAT SOLIDARNOSTI S NATALY I JUANOM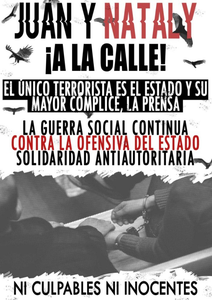 JUAN I NATALY NA ULICU!

Jedini terorist je država,

a njegov glavni saveznik štampa.

SOCIJALNI RATI SE NASTAVLJA

PROTIV NAPADA DRŽAVE

ANTIAUTORITARNA SOLIDARNOST

NI KRIVI NI NEVINI
Nataly Casanova, Juan Flores i Guillermo Duran uhapšeni su u Santiagu, u Čileu, 18. septembra, optuženi za nekoliko napada, između kojih i u podzemnoj željeznici te na trgovački centar Subcentro Militar.
U jednoj od tih akcija ranjeno je nekoliko civila. U izjavi kojom odgovornost preuzima ZVĆ/Čile, autori djela kažu da su dali obavijest telefonskim putem, prije nego što je djelo počinjeno.
Guillermo je otpušten, na kasacijkom sudu, na noćni pritvor (nakon što žalbeni sud bio pretvorio noćni kućni pritvor u totalni), budući da protiv njega nisu uspjeli sastaviti nikakvu optužbu, osim što se nalazio u društvu s Juanom i Nataly tokom hapšenja. Nataly i dalje ostaje u ženskom zatvoru San Miguel, dok je Juan premješten iz zatvora Impresa 1 u CAS (zatvor visoke sigurnosti), oboje se nalaze u pritvoru.
Tekst uz plakata:
Širimo našu gestu solidarnosti s Juanom Floresom i Nataly Casanova, uhapšeni pod optužbom da su počinitelji-učesnici raznih eksplozivnih napada.
Kao uvijek, naš solidarni stav mora biti neprekidan, već smo ti bili rekli, i željeli bi da ove riječi odjeknu u nadi da će se solidarna djela i vlastite inicijative širi i množiti; citiramo: tokom našeg iskustva, individualnog i kolektivnog, kao pokret, upoznajemo se, približujemo se, shvaćamo i gradimo stupove koje podupiru sva naša djela.
Kada govorimo o antiautoritarizmu i slobodi stvaramo odnos koji poništava svaki oblik fizičke ili mentalne strukture koja ograničava naš život; kada govorimo o solidarnosti to činimo zato što smatramo da bez nje ne možemo uništiti ili izbjeći strukture koje nam ne dozvoljavaju živjeti; zato ćemo posvetiti slijedeće riječi našim drugovima/aricama sa svakog područja, našim političkim i socijalnim zatvorenicima/acama, prijateljima, braći i svima koji se nalaze u fizičkoj i/ili mentalnoj izolaciji. Znajte da ih ne zaboravljamo, sjećamo ih se i solidariziramo s njima počevši od ovih riječi pa sve do direktne i materijalne akcije.
Solidarnost je to, oružje koje treba uzeti u obzir za koga god se nalazi iza rešetaka kapitala, da li zato što je ukrao hranu, opljačkao banku ili postavio bombu. O tome ne smijemo pasti u medijsku manipulaciju, da se usredotočimo na jedne drugove umjesto na druge, naša solidarnost mora biti jednaka, i može se izraziti kakogod se želi (brošurom, izjavom, tekstom, bombom, ili pak posjetom), mašta je beskrajna.
Bitno je da ne budemo odjek buržoaske štampe, trebamo stvoriti našu vlastitu informaciju (ili kontra-informaciju, ili kakogod je želimo nazvati), s povjerljivim kanalima, a ne da njima manipuliraju velike korporacije, a što je još važnije, trebamo sve dovesti u pitanje, kritička misao je naš najbolji saveznik u socijalnom ratu.
Smatramo da solidarnost ne smije dugo čekati, zato smo kreirali ovaj plakat, nadamo se da će se ubrzo proširiti ulicama. Treba i naglasiti da Guillerma nismo uključili u plakat, zato što smatramo da ga strategija moći želi iskoristiti da izgradi svoju "hermetičku i određenu" ćeliju, kojoj je jedini temelj što se nalazi u društvu u trenutku hapšenja. Ustrajemo na važnosti korištenja vjerodostojnih izvora i da ne smijemo imati povjerenja u štampu, koja je samo glasnogovornik moći.
Nadamo se da će ova mala gesta solidarnosti preći zidove zatvora i da će je Nataly i Juan osjetiti kao bratski zagrljaj. Kao što su već to napisali drugi drugovi "akcija i solidarnost su hitni. Ostalo su izlike."
<strong>Solidarnost je oružje.
Uzmi ga i napadni!</strong>
Srodna Grupa Crno-Crna Djetelina, čilensko područje, oktobar 2014.
Izvor: Croce Nera