Titolo: MESKIKO: ANARHISTIČKI ZATVORENICI ZAPOČINJU ŠTRAJK GLAĐU
MESKIKO: ANARHISTIČKI ZATVORENICI ZAPOČINJU ŠTRAJK GLAĐU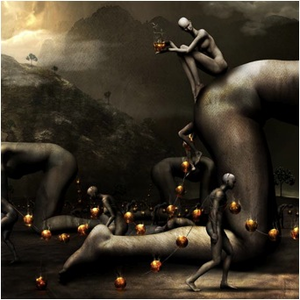 Poluslobodnima
Narodima svijetima
Potlačenima
Ponukani osjećajem pobune i otpora i istinskog odbijanja svih mehanizama kontrole, među kojima i zatvorskog sistema, mi, anarhistički i slobodarski pojedinci, u našim uvjetima zatvorenika koje je zatočila meksička država, odlučili smo iskoristiti jedno od malobrojnih sredstava nama na raspolaganju: štrajk glađu, počevši od danas 1. oktobra, godinu dana nakon hapšenja 2. oktobra 2013., deset mjesecai nakon zatočeništva Fernanda Barcenasa i 9 mjeseci Amelie, Carlosa i Fallon.
Za nas štrajk glađu nije sinonim za slabost, kao što ne mislimo da ćemo na taj način ispasti žrtve, već nasuprot to je za nas alternativa jedne borbe koju smatramo primjerenom logici prosvjeda, umjesto da se pokorimo zatvaranju naših tijela, ponižavanjima, izolaciji i frustraciji, obilježjima zatočeništva u ovim centrima terora. Odlučili smo da reagiramo umjesto da prihvatimo zatvor kao jednu "normalnu" stvar.
Država želi formirati krotke i servilne građane, kako bi održala svoj predodređni "društveni poredak", odnosno strukturu kapitalističke proizvodnje, u korist samo vladajuće klase. Zatvori igraju ključnu ulogu u oblikovanju tih dobrih građana.
Tom buržoazijskom društvu žele u stvari prilagoditi zatvorenike.
Mi odbijamo njihov cilj uključivanja naših života putem zatvora. Ne samo da to smatramo beskorisnim, već i štetnim, i zato smo odlučili nastaviti našu borbu da bi ga uništili, započevši malim djelima negacije i ne priznavanjem njegovog utjecaja na naše živote.
Objavljujemo ovaj štraj glađu, bez ikakvih zahtjeva ili pitanja. Mi ne tražimo poboljšanje zatvora ili bolje uvjete, radi se jednostavno o zanemarivanju njegove uloge u našim životima, djelujući na koordiniran i solidaran način.
Našim djelom pratimo prosvjed 2. oktobra, 46 godina od genocida u Tlatelolcu, ne zaboravljamo i ne opraštamo, vodimo rat do okončanja represije.
Nećemo nikada prestati težiti ka našoj slobodi!
Nećemo napustiti borbu zbog nje!
Jorge Mario González García (Torre Médica del Reclusorio de Tepepan )
Carlos López "El Chivo" (Reclusorio Oriente)
Fernando Barcenas Castillo (Reclusorio Norte)
Abraham Cortes Ávila (Reclusorio Norte)
Izvor: abajos los muros via RadioAzione