Titolo: SANTIAGO [ČILE]: POLICIJA USMRTILA OSOBU PRETPOSTAVLJAJUĆI DA JE ANARHIST
SANTIAGO [ČILE]: POLICIJA USMRTILA OSOBU PRETPOSTAVLJAJUĆI DA JE ANARHIST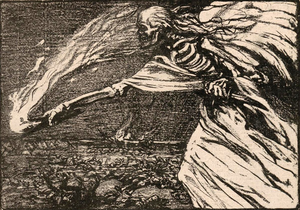 Usred policijskog slavlja i morbidnosti medija, nama su naši neprijatelji sasvim jasni.
U zoru 24. septembra, oko jedan sat, u centru Santiaga došlo je do eksplozije jedne naprave koja je teško ranila dvadesetdevetogodišnjeg Sergija Landskrona Silvu.
Eksplozija koja se odvila na ulici uzbunila je stanonvnike četvrti te je policija odmah stigla na mjesto događaja. U tom je trenutku Sergio Landskron ležao na ulici obavijen vatrom. Kad su mu stanovnici željeli pomoći, nastojeći ugasiti vatru, policija im je to zabranila, prijeteći hapšenjima.
Nakon što su udaljili stanovnike policajci su pošpricali tijelo aparatom za gašenje te su odmah, dok je osoba još ležala na ulici u agoniji, izolirali čitavo područje. Policija se još jednom obratila stanovnicima, u očaju koji su glasno tražili da se pomogne ranjenoj osobi, izjavivši da je ista aktivirila još jednu eksplozivnu napravu.
Policijska jedinica za specijalne operacije (GOPE) stigla je na mjesto događaja nakon 20 minuta, i zapriječila prilaz ambulantnom vozilu, ispitujući tijelo još na životu, odbacivši ideju o još jednoj eksplozivnoj napravi. Napokon, nakon sat vremena, osoba je podvrgnuta liječničkom tretmanu i odvedena je u bolnicu, praćena policijom, gdje je umrla oko 03:40.
Nismo upoznati s okolnostima koje su dovele do ovog kobnog incidenta, ne znamo da li je osoba rukovala eksplozivom, da li ga je pronašla, da li ga je pomaknula ili je došlo do eksplozije dok je ista prolazila.
U čitavom ovom metežu i na temelju postojećih informacija možemo zaključiti da Sergio Landskron nije posjedovao nikakve anarhističke ideje/prakse, ali kada je policija stigla na mjesto događaja mislila je da se radi o anarhistu i postupila s tim u skladu.
Ostavili su ga da umre i nisu dozvolili pomoć, iskazujući sav sadizam uniforme. Bilo je bolje uživati u njegovoj agoniji nego doznati što se zaista zbiva, prijeći i preko forenzičara, onemugučujući im sakupljanje dokaza.
Kao liječničku izliku naveli su da zdravstveno stanje ranjenog nije zahtjevalo hitnu pomoć. Bez obzira na tehničke aspekte, te su noći željeli produžiti agoniju osobe koju su smatrali anarhistom u svojim rukama.
Pred njihovim očima nalazilo se umiruće tijelo anarhista i za njih je to bio osvetnički čin, izravnavanje računa s anarhističkom sredinom. Kada o njima ovisi okončanje ili produženje života, ne oklijevaju u svojem sadizmu, i to je nesumnjivo pojačano nedavnim ozračjem antiterorističke histerije koje je izgradila moć.
Toga su jutra prešli svaku granicu, fotografirajući tijelo još na životu, kao bi slike kružile internetom, iskazujući svoju perverziju kroz ideju da prisustvuju agoniji jednog anarhista.
Ismijavanje i slavlje smrti anarhista odvija se u logici poraženih. Oni ne mogu shvatiti da ne postoji poraz u smrti jednog druga na djelu, postoji fizički gubitak, odstutnost i duboka bol, ali naša borba nije poražena smrću, i to što ne razumiju rasplamsava njihovu mržnju i prezir.
Nećemo stajati u tišini naspram smrti druga na djelu, ne podnose činjenicu da oni žive u svakome od nas unatoč lovu i osveti. Oni preziru i gnušaju se naših sjećanja.
U vrijeme pometnja i nejasnih informacija umjesto da se podižu izlike i policijske zavjere i teorije, umjesto da se gubimo u njima, bitno je izvući poduku: neprijatelj nas želi mrtve, i da bi to dostigao spreman je pregaziti svoju vlastitu legalnost i humanu idelogiju.
To nas ponašanje ne iznenjađuje, kao što ne iznenađuje nikog drugog, to je jasan znak da je neprijatelj spreman na rat. To bi trebalo pomoći da svi oni koji još sumnjaju u ulogu moćnika i njihovih lakeja napokon otvore oči.
Da ne bi izgubili obzor i perspektivu društvenog rata. Oni su u ratu, i mi smo.
Ništa nije gotovo, sve se nastavlja
Neki Anarhisti
Septembar 2014.