Titolo: MEKSIKO: PISMO MARIA GONZALESA
MEKSIKO: PISMO MARIA GONZALESA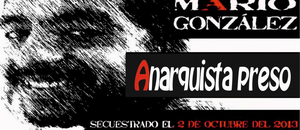 Neuki rat neporaženih i neobuzdanih i dalje je prisutan u povijesti čovječanstva, protiv "sposobnosti destruktivne akumulacije koju izaziva ekonomsko-financijski mehanizam i kojeg nijedna međunarodna institucija ne može regulirati: globalizacije"[1]. Dok represivne metode moći protiv "disidentstva" postaju sve sofisticiranije, ostati samo u obrambenom stavu nije naša jedina opcija, prijeći u napad je potrebno, kao što kaže Bonanno, i to kreativno, ako ne želimo da nas neprijatelj kapital nadiđe.
Naspram ratnih šteta ovoga rata stvaraju se oblici solidarnosti s palima, ranjenima i zatvorenima koji se bore za emancipaciju čovječanstva, i općenito protiv zatvora, što je od vitalne važnosti u ovoj borbi.
Anarhistički Crni Križ je važan i dragocjen dokaz svega toga; u njihovoj desetoj obljetnici želim im zahvaliti za solidarnost koju su iskazali meni i mnogim anahističkim i ne-anarhističkim zatvorenicima, od 2004. nadalje. Pronaći osobe koje te ne ostavljaju sa strane zato što si anarhist, već ti u trenu pruže podršku i solidarnost, što dokazuje da nismo sami i pomaže nam da ne patimo u samoći u zatvoru, kao što se nažalost dešava sa mnogim zatvorenicima.
Danas su zatvori prenapučeni i živi se u očaju zbog kazni koje se nameću nama siromašnima, disidentima i isključenima kojima su ova mjesta ispunjena, u kojima nas osuđuju da budemo proizvodi koji donose zaradu kapitalu i muče nas torturom zatvora, zbog svega toga zatvori su prava bomba, približava se divlji štrajk [2] koji će ih uništiti i doći će stoga do masovnog bijega.
Mislite da to nije moguće uz snagu 12 tisuća zatvorenika u svakom zatvoru?
Proživljavajući na vlastitoj koži iskustvo zatvorenog života u ovom aparatu smrti, trulog do korijena, osoba realno doživi situaciju u zatvoru; lako je reći da je povratak u društvo apsurdna farsa i da se radi samo o "tržištu kazne" koje nas malo pomalo troši. Naspram toga ljudska snaga prirodno pokaže svoju zapanjujuću i nesalomljivu snagu koju država nastoji uništiti izoštravajući svoje metode represije, ali ne vjerujem da mogu uspjeti! Svi zatvorenici tražimo našu slobodu, dostignimo je! Ne dozvolimo da nas smrt uplaši više nego bit istinskog života.
Anarhija, pozdravi i društvena revolucija
Mario
<em>[1]"Državno nasilje. Antiteroristički rat i rat protiv zločina kao sredstvo globalne kontrole (2012.), Pilar Calveiro
[2]Za navedeni pojam pročitati "Traktat o umijeću življenja namijenjen mladim naraštajima", Raoul Vaneigem</em>
Izvor: Abajo los muros via RadioAzione