Titolo: UK: Online release of Return Fire vol.5
UK: Online release of Return Fire vol.5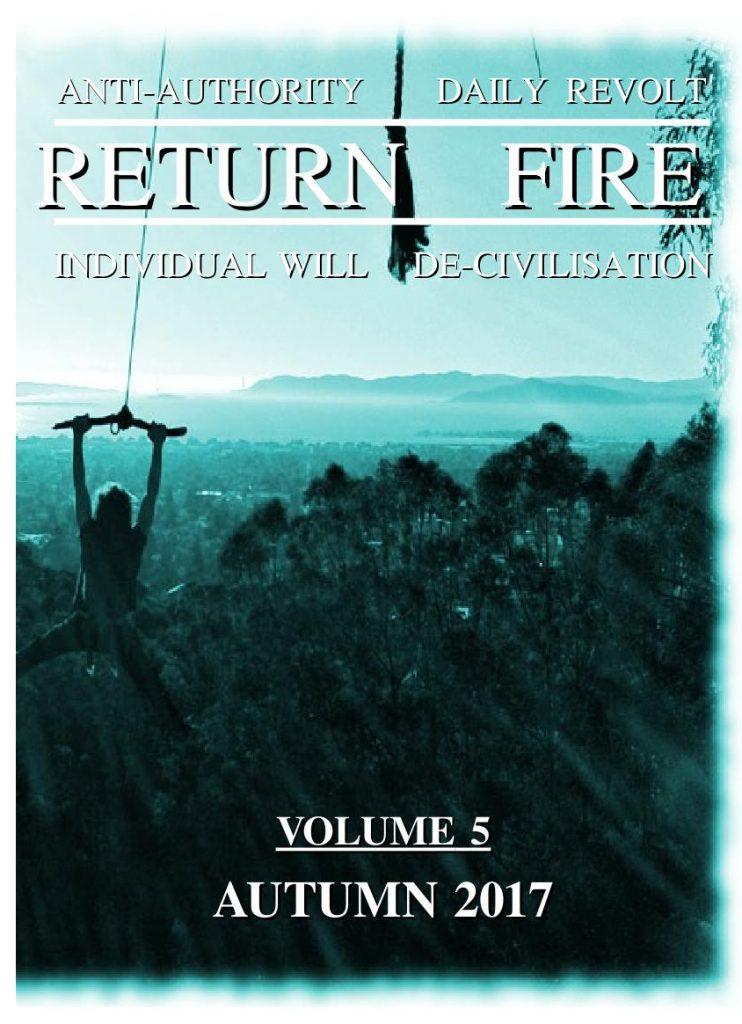 Welcome to the fifth installment of Return Fire, now available in PDF. Dated autumn 2017. Part international translation platform, part space for theoretical deliberation, part clearing house for action and repression, part archive for articles of interest, part literary collage of anarchist propaganda, art, poetry and subversion. An alternative version of the covers is also included for printing runs for distribution outside of the U.K. who prefer greyscale.
return-fire-vol5-covers-COLOUR.pdf
return-fire-vol5-covers-B&W.pdf
return-fire-vol5-contents.compressed.pdf
In compiling and editing this volume, a number of recurring themes have stuck out to us.
— Democracy and the falseness of its dichotomy with dictatorship;
— an analysis and/or practice critique of imperial, universalist science and new technological frontiers (from the micro-scale to outer space);
— the timeless tension perceived within self-described anarchism of community (both of what some would call the 'nation' – even stripped of its European statist and racialised connotations – and that which composes the more-than-human world) and individual.
At 128 pages, this is our largest offering yet, so it will only scratch the surface to mention a few of the texts contained within: from What Could Compensate for the Loss of the Night Sky?, the Uncivilized Animals study on the drastic effects of light pollution across species, to Dot Matrix troubling radical notions of 'care' and 'conflict resolution' that abound, in her Trying for Springs.
As well as those that we've furthered the promotion and distribution of, this edition also includes previously unavailable English translations looking at the bandits operating against shipping industries off the Somalian coastline in J. Vinagre's Pirates vs. Corsairs!, and others such as Marco Camenisch's commentary on the molecular frontier of industrial toxicity, Nanotechnology & Transparency, from press collated from his prison cell.
There's some passages on 'A New Smart World of Slaves' that we are moving into, selected from a longer piece by the comrades of Capulcu, and an abridgment of words from Distri Josep Gardenyes towards an anti-colonial anarchist insurrectionalism beyond what currently goes by that name, 'The Matter of Knowing Who We Are'; the importance of which to us is hard to overstate.
Additionally, we've conveyed a moving dialogue between Luciano 'el Tortuga' Pitronello and the Ex-Worker podcast on the psychic and ability-transforming injuries he suffered and what, in his opinion, lay 'At the Root of My Survival'. As always, a little snatch of cries against conditioning and alienation from various urban shitholes in the U.K. is featured; like Combatant A's Honor Amongst Thieves, Emma Kathryn in The Dark Months are Coming (on the winter that was then beaconing), and Message in a Bottle in the return of our favourite contributor: anonymous.
Of our regular columns, the Global Flash-Points appears this time in reduced form (certainly due to our editorial priorities not due to a lack of anti-system violence in the period in question), and Rebels Behind Bars chronicles individual situations and appraisals of wider social realities, from extra-judicial beating and institutional retaliation, to subjectification of prisoners in general and the 'woman prisoner' in particular, to the increasing use of video-link during trials against subversives.
Memory as a Weapon typically concerns a range of topics, not least of which is an improved rendering from the original Italian of Alfredo Cospito's revision of what began the infamous 'years of lead', or others still relevant from a different era of anarchism; as with George Woodcock's reflections on our modern conception of time. Our latest collection of Poems for Love, Loss & War are by Jack D. Forbes, autumnleavescascade, and Julian Langer.
Up for review are various works of ethnically-identified environmental lore that have proved to be counterfeits, and what need they try to fill; a study of anti-state forms of social life in Zomia, south-east Asia; and fictionalised tellings of real European millenarianism during the Reformation and its traces in radicalism to this day: Fraud, Fantasy and Fiction in Environmental Writing / 'The Invention of the Tribe' / Q.
Our supplement to this volume, a re-envisioning of (one part of) our masthead slogan Individual Will, will also follow in PDF.
Questions, comments and submissions: returnfire@riseup.net
A final note: the author of the correspondence from the barricades of Athens which we included, Paul Z. Simons, has now died. We offer this version to his honour and spark, felt even from afar.
R.F., summer solstice
Previous volumes (& related publications):
Individual texts in alternative format for distribution: theanarchistlibrary.org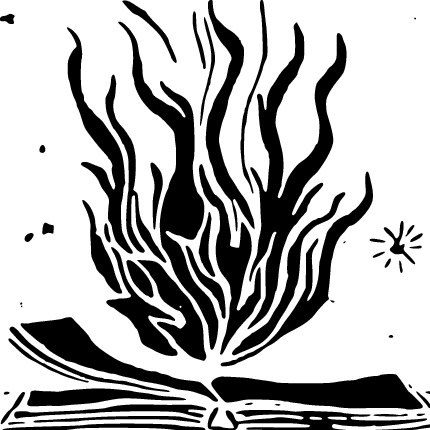 Bookmarks