Titolo: Greece: Update on anarchist hunger striker Ntinos Giagtzoglou (25/02/2018)
Origine: via mail
Greece: Update on anarchist hunger striker Ntinos Giagtzoglou (25/02/2018)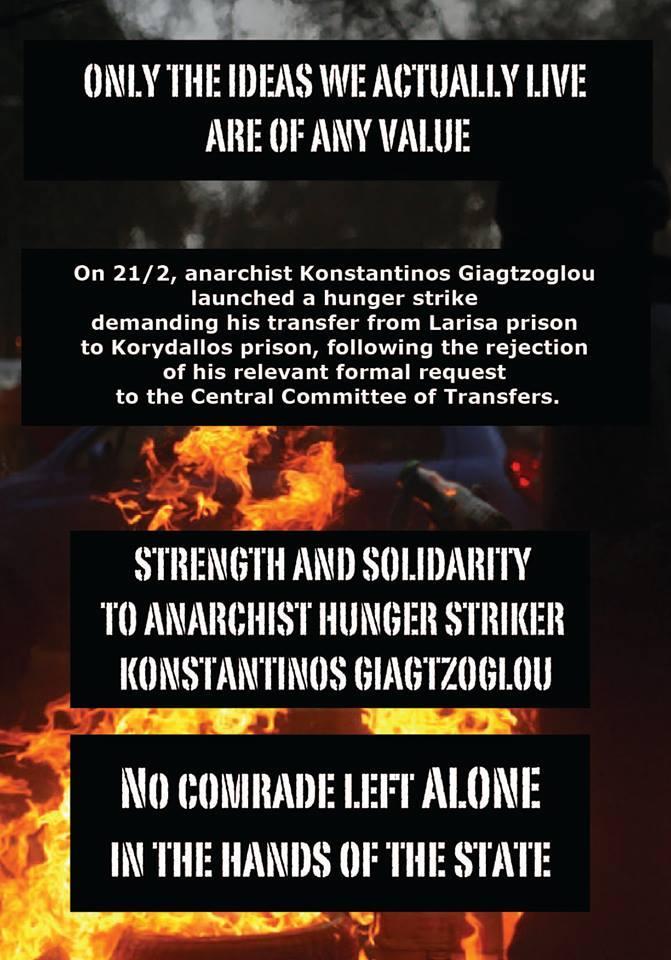 Today, 24/02, early in the morning, a group of police special forces (EKAM) entered Korydallos prison and abducted comrade Konstantinos Giagtzoglou (who is on hunger strike since 21/02 demanding his permanent transfer in Korydallos prison, located in Athens) in order to transfer him to Larisa prison. Th comrade fought back which resulted in him being injured by the pigs. He wasn't allowed to take any of his stuff, not even his medicine.
As an immediate response, the rest of the prisoners rose up and captured all prison wings, demanding a meeting with a representative of the Justice Department. They demand the immediate return of Konstantinos in Korydallos prison.
As a result of the massive mobilization in Korydallos, Malandrino and Chania prisons, a representative of the Justice Department has met with representatives of the prisoners in Korydallos prison (the whole prison was occupied by the prisoners for 5 hours) and has promised them that there will be a new council in session in Monday to examine our comrade's demand. The prisoners ended the occupation warning him that they will take action again if the comrade's demand is not met.
Ntinos is now in Larisa prison and announced that he will escalate his hunger strike to thirst strike starting from Sunday, 25/02/2018. He has also published a letter about his struggle.
The comrade's letter:
STILL ALIVE...
I am currently in Larissa prison after the police operation carried out by police special forces (EKAM) today at dawn in the first wing of Korydallos prison where I was transferred for court reasons. The cops invaded my wing and my cell, while I was bedridden as a hunger striker, after a faint episode I had in the evening, they carried me out of the prison building while beating me and threw me into the prisoner transfer vehicle. At this point, I resisted as much as I could while demanding my personal items (shoes, clothes, medicines, etc.) which I never got. They did not even allow me to take a bottle of water I had in my cell although they knew that my health was in bad condition due to my hunger strike. As far as I am concerned, I have to say that the authoritatian circles' attempt to bend my morale will be for nothing...
"At the moment of commitment the entire universe conspires to assist you" Johann Wolfgang von Goethe

"Those who restrain desire do so because theirs is weak enough to be restrained" William Blake
At first, my capture does not in any way imply my moral and political defeat. Since as long as I stand on my feet and breathe through my lungs, my values ​​and my principles are non-negotiable, because my decision to revolt against power will not be stopped by no dungeon and no "exile". And this message is a promise to all comrades.
But it seems that my imprisonment alone, as well as my long-standing conviction, which has been announced by the investigating authorities (in the draft indictment it is stated that the acts I am accused οφ are punishable by life sentence) are not enough for power. Authority wants, in addition to depriving myself of my physical freedom, to impose an informal "exile" on me. Thus, prosecutor Raikou, instead of ordering my detention in Korydallos prison, where every person that is arrested in Athens is jailed while awaiting trial, "exiled" me to Larisa prison. An "exile" that aims to:
Firstly, to take me away from my friends and families, making their visits practically impossible, forcing my relatives to travel enormous distances crossing half the country burdening them physically and financially just to see me a few minutes behind a glass.
Secondly, to alienate me from the complex and huge dossier of the case that keeps me in jail, as the lawyers are unable to travel to Larissa in order to have have frequent and uninterrupted communication with me. Also, the very nature of the case file (thousands of pages in electronic form, video, etc.) makes it impossible even after so many months to be accessed from Larisa prison as there is no proper equipment.
Thirdly, to make it possible to supervise, control and severely restrict my communication with other imprisoned anarchists and comrades in solidarity with me, in an effort to isolate me.
Lastly, to basically condemn me before the trial in a state of forgetfulness, "forgotten in the warehouses of defective and redundant human goods"...
This practice of auhority is not unprecedented. However, its strong implementation by the Greek state was evident during the two years 2010–2011, when the wave of suppression that resulted in the arrest of dozens of anarchist comrades was followed by their dispersion in prisons throughout Greece (Grevena, Malandrinos, Corfu, Trikala, Komotini, Domokos etc.) despite the fact that they were accused of the same deeds. A guide to this practice was the anti-insurrectional repressive method applied by other states abroad, like in Spain for example, where ETA fighters were transferred 700 kilometers away from the Basque country in order for them not to have prison visits or communication witch each other.
The informal "exile" in my case (without it being the only one that has taken place recently) seems to me to be a test of authority in view of the new Penal Code, as it is in some way a precondition for some of its provisions. In particular, authority reopens the subject of special detention conditions for anarchist prisoners. It has not been many months since the anti-criminal policy secretary of the Justice Department, Eftihis Fytrakis, stated that "no anarchist will come back to Korydallos prison". Now my "exile" in Larissa, tomorrow the special wards for all political and unruly prisoners. Of course, the experimentation we have mentioned above is based on the gauging of our reactions, and especially the anarchists' reflexes outside the walls and of the movements in solidarity with the struggles of the prisoners.
"It is also no coincidence the fact that my transfer to Korydallos to be tried for another case (an arrest in clashes with the police after an anti-memorandum demonstration on 11 May 2011) took place just 1 day before the trial! This is indicative of the fast track procedures they want to implement in my case, as there are political pressures from the high levels of Dominion and their "justice" works on demand...
The ethical resoluteness of one who abandons and attacks the power structures is a perception, a moment in which one tastes the beauty of one's comrades and the misery of obligation and submission. "I rebel, therefore I am" is a phrase from Camus that never ceases to charm me as only a reason for life can do. In the face of a world that presents ethics as the space of authority and law, I think that there is no ethical dimension except in revolt, in risk, in the dream. The survival in which we are confined is unjust because it brutalizes and uglifies." Massimo Passamani
For all these reasons, I REFUSE to passively accept the state of "exile" and the transfers-abductions overnight. I stand fiercy opposed against these machinations with words and actions. Because my deep conviction is that our actions and attitude should not be trapped between the repression-anti-repression dipole but should permeate every aspect of our being, let my actions now be still another blare of attack aiming to open cracks of freedom in the multiple and multiform cells within society — prison. An attack, a product of rebellion, which, if it doesnt happen at present time, will never be a future option...
The fact that I am a prisoner of war in the Hellenic Republic does not mean that I left my dignity at the entrance of the prison and that I bent my knee. On the contrary, in prison, in the courtyard, in the cell, in the prisoner tansfer vehicle, I carry on my pure passion for freedom, every single gesture of solidarity, every act of revolutionary complicity that lowers the walls of the prison and a decision to fight for anarchy TO THE END.
That is why, since 21/02/2018, I am on a hunger strike demanding that my transfer to Korydallos prison be formalized and my informal state of "exile" to be stopped. The first transfer request I had deposited since my first week in jail was rejected, confirming the decision of authority to put me in a "political quarantine" in Larisa prison in order to be forgotten here. But the power and will for the continous anarchist rebelion is capable of overturning every decision of those who think they can rule our lives at no cost. No enemy of freedom is unapproachable and no imprisoned comrade is alone...
I also announce that from tomorrow, Sunday 25/2, I will start a thirst strike as an escalation from the hunger strike I'm already on. I thank from the bottom of my heart the thousands of prisoners in Korydallos prison who have today showed, that when they hurt and offend a single prisoner, they hurt and offend all of us. United we will win. Their strength gives me the strength to reach the end to win the fight I give.
MIND, SOUL AND BODY FOREVER IN THE STRUGGLE
IN SOLIDARITY WITH ALL POLITICAL PRISONERS IN GREECE
STRENGTH TO ALL MY BROTHES AND SISTERS IN CHILE AND ITALY
STRENGTH TO THE ANARCHISTS WHO FACE THE REPRESSIVE MANIA OF THE RUSSIAN STATE
THE RIGHT BELONGS TO THOSE WHO REVOLT
VICTORY TO THE PRISONER'S STRUGGLE
AGAINST THE NEW PENAL CODE
Konstantinos Giagtzoglou
24/02/2018
General information about the case:
Anarchist comrade Konstantinos Giagtzoglou was arrested on October 28th 2017, while exiting a hideout rented by him under a false identity and while trasferring guns and explosive materials. Ntinos is accused of being a member of the Conspiracy of Cells of Fire and for sending parcel bombs to various E.U. officials including the former prime minister of Greece, Loukas Papadimos. The cops' accusations are based on a mixed DNA sample and on the fact that Dinos was visiting a former anarchist prisoner in Korydallos prison in early 2013. The comrade stated that both renting the appartment and transferring the equipment were part of "revolutionary solidarity" and denies all other charges.
The judicial authorities aim to isolate him by assigning him to Larisa prison for his pre-trial detention, in a city 355 kilometres away from Athens where his family, friends and comrades are. Ntinos was tranferred in Korydallos prison a few days ago to be tried for an older case (he was arrested in Athens, in 2011 during massive clashes with riot police). While there, he was informed that his official request to remain in Athens (Korydallos prison) until his new trial was denied by the Central Committee for Prison Transfers. As a response, the comrade decided to go on a hunger strike on 21/02, demanding his permanent tranfer in Korydallos prison until the time of his trial.
There have been a few attacks here in Greece in solidarity with the comrade during the past few months of his incarceration:
— A group called "Cracks in normality" heavily vandalized two SYRIZA local offices (largest party of the government coalition) and a post office in Athens, on 26/01/2018
— A FAI cell called "FAI-IRF Cell" planted an incendiary device at a post office in Patras (western part of Greece), on 06/01/2018
— A group called "Destroyers of social peace" heavily vandalied a post office and a local branch of Piraeus bank in Athens, on 18/01/2018
— A FAI cell called "Revolutionary Cells of Action" planted an incendiary device at a local branch of Piraeus bank in Athens, on 26/01/2018
— A group called "Anarchist Cell – Destruction of the existent" torched a local electricity station that belonged to the National Company of Telecommunications (OTE) in Thessaloniki, on 14/12/217
There have also been a few small solidarity gatherings and some banners were hanged around the city of Athens along with posters etc.
All info are compiled and translated in English by a group of Ntinos' comrades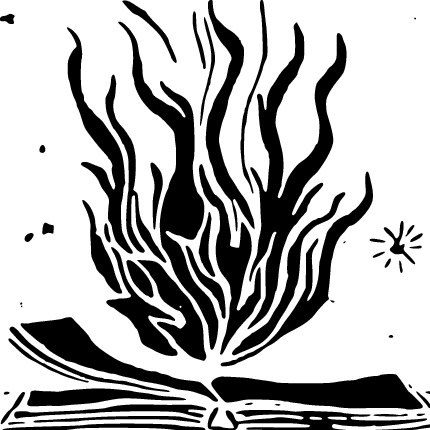 Bookmarks