Titolo: BRESCIA [ITALIJA]: ANARHISTIČKA ĆELIJA ACCA NAPALA POLICIJSKU ŠKOLU (18.12.2015.)
BRESCIA [ITALIJA]: ANARHISTIČKA ĆELIJA ACCA NAPALA POLICIJSKU ŠKOLU (18.12.2015.)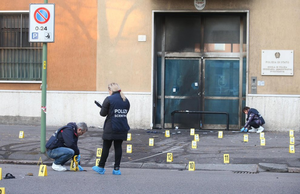 U noći između 17 i 18 decembra postavili smo eksplozivnu napravu (s 8 kg baruta) u policijsku "školu" u Bresci. Simbolično djelo kako bi nanijeli materijalnu materijalnu štetu. Postavili smo je baš u to vrijeme kako ne bi ranili prolaznike.
Ovim smo djelom otvorili jedan naš projekt anarhističkog napada kao Anarhistička Ćelija Acca (C.A.A.), u afinitetu s međunarodnom internacionalom i uz doprinos pozivu na djelovanje za Crni Decembar.
Pridonosimo tom putu zato što:
Dopada nam se ideja o međunarodnoj koordinaciji anarhista za neposredno djelovanje. Naša ideja o suučesništvu nadilazi grupe i "grupice".
Koristimo sredstva koja smatramo shodnima, tražeći rast i u minimalnim detaljima djelovanja. U tom smislu ovo djelo u smislu materijalne štete je nikakvo, ali važno je kako bi naoružali našu samoorganizaciju i nadasve u ovom trenutku kada osjećamo veliku rezignaciju među anarhistima u Italiji. Napali smo jednu od naoružanih ruku države. U toj se "školi" obrazuju panduri iz čitave Italije i iz drugih država. To je i jedna mala gesta protiv rata.
Solidarni smo s osobama koje se bore protiv svih država i kapitala. Naše misli upućene su brojnim drugovima koje progone, koji su zatočeni, mučeni ili ubijeni, sada i jučer. Solidarni sa svim zatvorenicima u borbi. Ovo je znak suučesništva svima u zatvoru: s Alfredom jer je pucao na Adinolfija, s Chiarom (anarhistica NO TAV) jer je napala gradilište, s Nicolom Gaiom jer je ranio izvršnog direktora Ansalda, i to je minimalno što je zaslužio, s Nicom anarhistom NO TAV.
S Monicom i Franciscom koji ponosno ustraju u španjolskim zatvorima.
S Tamarom Sol koja nam je pokazala kako se osvećuju drugovi.
S Nikosom zbog njegovog jednostavnog doprinosa pozivom na borbu.
S drugovima iz ZVĆ.
S drugovima koji se bore kako unutar tako i izvan zatvora.
---
Odgovor na tekst Pod pritiskom:
Osnovni poriv na djelovanje nije pritisak zbog kojeg eksplodiramo, nego bezgranična strast koja oslobađa.
To nas je te noći naoružalo u Bresci: strast da iskušamo osloboditi se izrabljivanja, život dostojan života, strast za slobodom. Strasti su želje pretvorene u djelo, neka od najdivnijih trenutaka života naspram invazivne banalnosti spektakla. Ta je bezgranična strast eksplodirala te noći u Bresci.
Pitanja koja postavljamo autorima tog teksta su:
Djela ne govore sama po sebi? Zašto onda govoriti o djelima?
Nije nam se dopalo pročitati o tom djelu - "to je pritisak koji je eksplodirao te noći u Bresci", mada je napisano s najboljom namjerom. Mi to nismo tako doživjeli.
Djela ne govore uvije sama po sebi, i to je dokaz.
Anarhistička Ćelija Acca
Izvor: InformaAzione