Titolo: UK: OBJAVLJEN 2. BROJ ANARHISTIČKOG ČASOPISA "RETURN FIRE"
UK: OBJAVLJEN 2. BROJ ANARHISTIČKOG ČASOPISA "RETURN FIRE"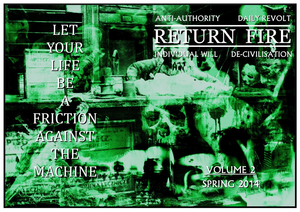 DOWNLOAD PDF: "RETURN FIRE" 2
PRINTAJ I DIJELI
Objavljen je 2. broj anarhističkog časopisa "Return Fire", proljeće 2014. [download pdf br.1]. Mnogo događaja je spriječilo ranije objavljivanje PDF-a, ali sretni što možemo predstaviti još jedan kolaž pobune i anarhije na koji baciti pogled i, nadamo se, prodiskutirati, kako bi bio od pomoći u borbama.
Namjeravamo objaviti treći broj u što kraćem roku, da pokrijemo događaje koje smo propustili od proljeća.
Časopis je mješavina vijesti, analiza, umjetnosti itd., od kojih su neki napisani za časopis, a drugi su nedavna djela naših drugova, kao i naši vlastiti prijevodi, te uobičajeni stariji tekstovi.
Na primjer "Nisam želio biti ponosni radnik" je sjećanje Gabriela Pombo da Silve na izdašnu ilegalnost, koji je objavljen kao uvod francuskog izdanja "Huye, hombre huye" od Xoséa Tarrío Gonzáleza [knjiga na španjolskom jeziku u pdf obliku na archive.org, nap.prev.].
Jan D. Matthews u "Suštini modernog obrazovanja" slijedi razvoj principa pripitomljavajućeg "odgoja" u industrijskom društvu.
"Plan za najveći dječji zatvor" dolazi iz UK, s kontra-informacijskih stranica web-sajta In The Belly of the Beast, dok "Civilizirana ljubav" iznosi osiromašenu društvenu ulogu para, već objavljen u francuskom časopisu "La Mauvaise Herbe".
Ovaj put autori Poema ljubavi, gubitaka i rata su pobunjenici, ikonoklasti i pustolovi kao Kelly Pflug-Back, 'Eat', Ron Sakolsky i Biófilo Panclasta.
"Buntovnici iza rešetaka" objavljuju vijesti iz sudnica, policijskih represija, pisma zatvorenika, od pshijatrijskog zatvaranja do oslobođenja životinja, od prvomajske tradicije do državne kontrole.
Sastavili smo i mali Globalni pregled sukoba, sabotaža i drugih direktnih akcija tokom posljednjeg dijela 2013. i početka 2014., i nekoliko povijesnih nasljeđa u "Sjećanje kao oružje", borba u londonskoj ulici Sidney 1910. i višejezični vjesnik o pobuni useljenika u Europi, nakon tzv. "Arapskog proljeća".
U "Grobarima društva" destruktivni queer osvrt na teoriju Lee Edelman i Guya Hocquenghem (uz Jacquesa Camattea), pronađen u prvom broju "Bædan" i prepisan.
Neka ovo bude naš doprinos mnogolikom frontu protiv civilizacije i autoriteta, a nadasve pozivu čileanskih anarhista na inicijative tokom decembra (u sjećanje na smrt Sebastiana Oversluija i zatvor Tamare Sol Vergara).
Potraži printanu verziju u UK.
(A)
Izvor: 325