Title: Amburgo [Germania]: Fuoco e fiamme per la polizia (17/03/2017)
Amburgo [Germania]: Fuoco e fiamme per la polizia (17/03/2017)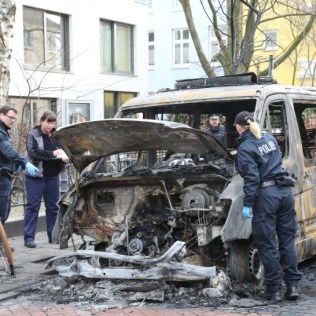 Ad Amburgo diciamo "tschüss" – anche alle macchine degli sbirri.
Il 17 marzo abbiamo bruciato due macchine di polizia ad Amburgo. Vicino alla casa del sindaco Olaf Sholze, in via Schmarje, abbiamo bruciato la macchina delle sue guardie. In via Hindenburg, davanti all'ufficio del sindacato di polizia (GdP) e direttamente davanti alla polizia, è stato bruciato un veicolo del GdP.
Il sindacato di polizia e il suo presidente nazionale, Kirsch, hanno minacciato dopo gli scontri ad Amburgo del 21/12/2013, "La prossima volta utilizzeremo proiettili veri!". Un allarme di escalation ad Amburgo, con riferimenti agli scontri di Genova e all'assassinio di Carlo Giuliani, è stato lanciato alla stessa maniera dagli agenti investigativi del sindacato federale tedesco. E' alquanto chiaro che in caso della perdita di controllo durante il vertice di G20 non è da escludere la morte dei manifestanti. Le vittime quotidiane degli sbirri sono viste come perdite collaterali necessarie a questo sistema.
Il sindacato di polizia assieme al sindacato federale di Polizia rappresentano il braccio politico degli sbirri. Essi insistono sull'inasprimento delle pene, ad esempio per gli attacchi "quotidiani" alla polizia. Così, il disegno di legge 114 prevede che tali attacchi siano più severamente puniti, e in maniera più veloce, e in ogni caso con detenzioni. E non ci sarebbe nemmeno bisogno di lesioni fisiche. E se l'assalitore portasse un'arma, anche senza usarla o con l'intenzione di usarla, la pena aumenterebbe. Questa legge è già stato inasprita nel 2011. Ma, a differenza dei dati presentati al pubblico, gli attacchi contro gli agenti di polizia sono diminuiti negli ultimi anni. Addirittura gli avvocati penalisti hanno dichiarato che le lesioni gravi dei poliziotti, che porterebbero ad un'inabilità prolungata, in Germania sono estremamente rare. Purtroppo! Perciò, è alquanto ovvio per chi son fatte le loro leggi.
Il sindacato di polizia adesso ha un veicolo in meno per per portare il caffè agli sbirri durante il vertice. E c'è anche un veicolo in meno da incontrare per strada o che sorveglia i nostri quartieri. Questo può anche sembrare poco, ma può essere ripetuto in ogni momento da chiunque decida di farlo. Distruggiamo quello che ci reprime. Non c'è nulla da attendere!
Ricordiamo Ian Tomlinson, morto da un arresto cardiaco durante il vertice G20 di Londra nel 2009, dopo che gli sbirri lo hanno sbattuto ripetutamente a terra, picchiato, senza nessun tentativo di rianimarlo.
Ricordiamo Carlo Giuliani, ucciso dagli sbirri durante il vertice G7 a Genova nel 2001. E tutti coloro i cui nomi sono sconosciuti, uccisi dagli sbirri nel conflitto quotidiano.
Prima del vertice, durante il vertice e dopo il vertice: Contro lo Stato, il capitalismo e tutte le forme di autorità!
HAMBURG [NJEMAČKA]: VATRA I PLAMEN ZA POLICIJU! (17.03.2017.)
U Hamburgu kažemo "tschüss" – i pandurskim vozilima!
17. marta zapalili smo dva policijska vozila u Hamburgu. Kraj kuće gradonačelnika Olafa Scholzea zapalili smo vozilo njegovih stražara u ulici Schmarje. U ulici Hindenburg, ispred ureda policijskog sindikata (GdP), i neposredno ispred policije, zapalili smo vozilo GdP-a.
Sindikat policije i njihov nacionalni predsjednik, Kirsch, zaprijetili su nakon sukoba u Hamburgu 21.12.2013. "Idući ćemo put koristiti prave metke!". Upozorenje o eskalaciji u Hamburgu, podsječajući na sukobe u Genovi i na ubojstvo Carla Giulianija, objavila je na isti način i istražna policija federalnog njemačkog sindikata. Sasvim je jasno da u slučaju gubitka kontrole tokom G20 mrtvi prosvjednici ne mogu biti isključeni. Na svakodnevne žrtve pandure se gleda kao na nužne kolateralne gubitke sistema.
Sindikat policije zajedno s federalnim sindikatom policije predstavljaju političku ruku pandura. Zahtijevaju pooštravanje kazni u vezi "fizičkog" napada na policijske službenike. Na primjer, prijedlog zakona 114 predviđa da bi napadi trebali biti strože kažnjeni, brže i u svakom slučaju zatvorom. Ne predviđa ni nanošenje rana panduru. A ako napadač nosi oružje, bez da ga koristi ili s namjerom da ga upotrijebi, kazna se povećava. Taj je zakon već pooštren 2011. No, za razliku od podataka koji se predstavljaju javnosti, napadi na policijske službenike su se u biti smanjili posljednjih godina. Čak su i stručnjaci krimalnog zakona izjavili da su ozljede koje bi dovele do dugotrajnije nesposobnosti u Njemačkoj vrlo rijetke. Nažalost! Dakle, očito je za koga se zakoni prave.
Sindikat policije sada ima jedno vozilo manje za donošenje kave pandurima tokom summita. I još jedno vozilo manje koje se može naći na našem putu ili patrolirati naše kvartove. Možda to i nije mnogo, ali to može u svakom trenutku ponoviti svatko tko odluči da to učini. Uništimo ono što nas tlači. Nema što čekati!
Sjećamo se Iana Tomlinskon, koji je umro od infarkta tokom summita G20 u Londonu 2009., nakon što su ga panduri u više navrati srušili na zemlju, pretukli, bez pokušaja reanimacije.
Sjećamo se Carla Giulianija, kojeg su panduri ubili tokom summita G7 u Genovi 2001. I svih čija su imena nepoznata, koji su ubijeni u svakodnevnom sukobu s pandurima.
Prije summita, tokom summita i nakon summita: Protiv države, kapitalizma i svih autoriteta!