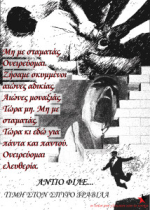 29. maj 2015.: Dan je bio težak, sve se zamračilo...
Probudili smo se uz oblačno nebo, a sredinom dana, dok je sunce sijalo, sve se zamračilo...
Bilo je oko 4 kada su nas EKAM (specijalna jedinica) i antiteroristička jedinica pozvali da se predamo!
Mislio sam da je laž, mislio sam da mi se stvari pričinjavaju...
Naprotiv, EKAM je već bio opkolio kuću, helikopter je letio nad nama i pokušavali smo shvatiti što možemo učiniti u dvije-tri minute.
Moje misli su počele lutati ćelijama u koje su me htjeli vratiti.
Hodnicima kojima bih besmisleno lutao.
Sjetio sam se osoba koje bih morao ostaviti!
Odjednom Spiros, naš mali Spiros, dečko koji nije znao ništa o diplomaciji, koji se iskazao hrabrošću, cjelovitošću i strašću prema slobodi za koju se toliko borio da ju osvoji, zgrabio je kalašnjikov kada je čuo EKAM i stavio ga pod grlo da okonča svoj život!!!
Sve se izbrisalo! Soba se ispunila dimom. Pao je s osmijehom na licu!
Bio je sretan zbog svoje odluke, i mogao si to vidjeti na njegovom malom licu.
Bio je to njegov izbor, i zato je njegovo lice sjalo!
Bio sam preneražen, moje je srce snažno kucalo, mislio sam da ono što vidim nije istinito.
Ali ne, naš voljeni Spiros (mali spiros) bio je mrtav.
Bio je hrabar i smio, imao je snage da učini ono što je učinio, a ja nisam!
Njegova je odluka bila hrabra, za razliku od moje!
Bio je umoran od lutanja hodnicima zatvora i kroz besmislene godine!
Spirakos, žao mi je što se nekad nismo uspjeli složiti i žao mi je što te nisam zaustavio!
Izvini, mali brate, ako sam te ponekad uzrujao!
Uvijek si bio i uvijek ćeš biti dio mog života.
Sjećat ću se trenutaka kada smo se smijali, kada sam se uz tebe osjećao kao dijete!
Ti si naš Spirakos, dečko koji je dao sve bez da išta traži zauzvrat.
Volim te, i uvijek ćeš biti dio mog srca, a kada se ponovno budemo sreli ponovno ćeš zbijati tvoje šale!!
Slava Spirosu Dravilasu koji će zauvijek živjeti u mom srcu!...
Spiros Christodoulou
...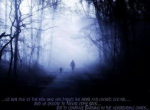 Živeći dostojanstvenim putem u najnepovoljnijim uvjetima
Policijska operacija u Nea Aghialos, 20.05.2015. okrunjena je "uspjehom". TV kanibali stoje nad mrtvim tijelom našeg prijatelja i urliču: Grigoris Tsironis, Spiros Christodoulou i mrtvi Spriros Dravilas su nemilosrdni pljačkaši i ubojice žedne krvi.
Grigoris
je bio i ostaje drug. Od svog prvog hapšenja, kao posljedica sudjelovanja u okupaciji Politehničke škole 1995. i u borbama protiv obnove trga Exarchia 1997., u brojnim dinamičnim intervencijama anarhističkog pokreta i njegovog aktivnog prisustva kao radnika u sindikatu dostavljača, Grigoris je uvijek bio na našoj strani. Bjegunac od januara 2006., nakon eksproprijacije Nacionalne Banke u ulici Solonos, živio je deset godina borbi i preživljavanja protiv kapitalizma i njegovog represivnog mehanizma.
S ucjenom na njegovoj glavi od 2009., za isti slučaj, i na nišanu sve ove godine, uspio je zadržati svoju ljudskost i militantnost unatoč nevoljama i lovu kojeg je pokrenuo moderni odred progona.
Spiros Christodolou
bio je i ostaje nepokajani proleter koji je oblikovao i oblikuje svoj vlastiti dostojanstveni put u najepovoljnijim uvjetima: zatvor i ilegala.
Baš kao i
Spiros Dravilas
... Okusio je to od svoje 21. godine, kada je po prvi put došao u kontakt s grubom realnošću zatvora. Otada, s mnogo godina zatvora na leđima, u bijegu i ilegali od 34. godine kada je svjesno odbacio dugo lišavanje slobode. Odbacio je, kao što to rijetki mogu, da gleda sebe samog kako hoda kroz te bijedne hodnike i ćelije popravnih paklenih rupa, ostavljajući posljednje godine nepokorene mladosti u modernim tamnicama.
MI NE OPRAŠTAMO - MI NE ZABORAVLJAMO
SOLIDARNOST S UHAPŠENIMA, GRIGORISOM TSIRONISOM I SPIROSOM CHRISTODOULOUM
ZAPALIMO ZATVORE
Izvor:
Act For Freedom Now
...