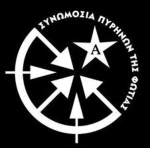 6. i 7. ročište ticalo se 250 napada pripisanih Zavjeri Vatrenih Ćelija i pokušaju bijega 2015. Svjedoci obrane bili su prisutni samo za neke od okrivljenih.
Drugovi Christos i Gerasimos Tsakalos te Giorgos Polydoros, Olga Economidou i Angeliki Spyropolou bili su prisutni u sudnici, ali su odbili pozvati svjedoke u svoje obranu, jer kao što su izjavili već prvog dana "
za nas je najbolja 'obrana' nastavak djelovanja na ulicama
".
Pozvani su svjedoci obrane za tri člana obitelji ZVĆ (Christosa Polydoroas, Evi Statiri i Athenu Tsakalou).
Izjava svjedoka fokusirala se kriminalizaciji obiteljskih odnosa i pozvali su se na slučajeve iz doba diktature u Grčkoj (1967.-1974.), kada se pobunjicima i ustanicima pogamalo i sakrivalo kako ih ne bi uhapsila Vojna Hunta.
Tužitelj, I. Koutras, poznat po svojim ekstrmno desničarskim stavovima, u jednom je trenutku glasno zapitao: "
ovdje nam dolaze sa svjedocima i razvijaju idelogiju po kojoj bi mogao postojati svijet bez zatvora! Ali, kako je to moguće?! Zamislite kakav bi to svijet bio bez zatvora... to je kao da kažete da možete ispeći jaje bez da ga razbijete!!
".
U srijedu 15. i u četvrtak 16. juna započela su "izvinjenja" optuženih za pokušaj zatvorskog bijega Zavjere Vatrenih Ćelija, nakon završetka izjava obrane, gdje su drugovi iz ZVĆ i drugarica Angeliki Spyropolou odabrali da ne pozovu svjedoke u svoju obranu.
U pravosudnoj proceduri "izvinjenja" očekuje se od okrivljenih da se izvinu sudu, ali su drugovi iz ZVĆ i drugarica Angeliki Spyropolou iskoristili priliku da iznesu svoja političke izjave.
U srijedu su drugovi Olga Economidou, Giorgos Polydoros i Gerasimos Tsakalos iznijeli zajedničku izjavu u kojoj su govorili, između ostalog, o planu bijega, djelovanju organizacije i progonu članova njihovih obitelji optuženih za "pripadanje terorističkoj organizaciji".
...