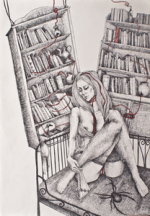 Nedavno je projekt kontrainformacije
"Zagovor na ednakvite"
iznio - po meni, s pravom -
pitanje
kako različite anarhističke tenzije, od kojih su mnoge međusobno suprotne, mogu koegzistirati na istom projektu kontrainformacije.
Moglo bi se to objasniti činjenicom da svaki napad na dominaciju i represiju može omogućiti, u određenim situacijama, povremenu koegzistenciju, možda kroz djela, različitih struja/tenzija. No, čini mi se da različite metode djelovanja i dalje predstavljaju nepremostiv jaz koji nažalost (ili srećom) odvaja određene tenzije od anarhističkog projekta (ne vjerujem da su ikada uopće bile dio istog) te ih međusobno razdvaja, postavljajući ih u ideološki slobodarski panteon, lišen bilo kakvog ustaničkog alata.
Marginalizacija štrajka glađu Spyrosa Mandilasa, izostanak nihilističkih i ustaničkih knjiga i brošura s anarhističkih izložba u Grčkoj i drugdje, promocija komunizacije, neprekidno kritiziranje nasilnih činova otpora, ne samo da produbljuju taj jaz; u skladu s idejama koje u posljednje vrijeme sasvim jasno iznose razni antiautoritarni i slobodarski pokreti, to stvara jednu specifičnu ideju o procesu anarhističkog projekta, kroz pokušaj preispitivanja ideja, sredstava i ciljeva.
Čime se nastoji stvoriti jedan anarhistički (?) revolucionarni subjekt, negirajući njegovu ustaničku (a također i individualnu) egzistenciju, koji je spreman prihvatiti kompromis i iluziju o savezništvu s ljevičarskim snagama kao nešto nužno.
Predložena reorganizacija i stvaranje jedne šire platforme (DAK) se koristi za obraćanje fiktivnim i brojčano neodređenim snagama, a temelji se na anarho-komunističkom mitu iz paradigme '36. A ovaj, za uzvrat, uživa značajnu važnost kao model za pragmatično upravljanja moći, a izgleda da je tim pokretima upravo to i krajnji cilj.
...