Titolo: BEOGRAD [SRBIJA]: PROMOCIJA KNJIGE POEZIJE "VAJGAČ" IVANA NOVAKOVIĆA, 29.11.2014.
BEOGRAD [SRBIJA]: PROMOCIJA KNJIGE POEZIJE "VAJGAČ" IVANA NOVAKOVIĆA, 29.11.2014.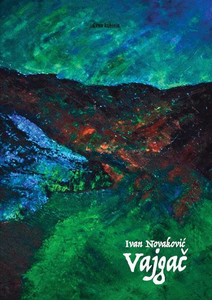 "Crna Kuhinja" vam servira svoj novi specijalitet. U ediciji "Dok traje vatra" izašla je knjiga poezije Ivana Novakovića pod nazivom "Vajgač".
Dođite da zajedno posetimo Vajgač, mitsko ishodište neizvesne budućnosti, na koji vas vode autor, izdavač i lokalni šaman.
Napuštanje one ravni koja se naziva "realnost", nije pitanje prostog bekstva, niti je to odlazak na neko bolje, već postojeće, mesto. Odlazak iz tzv. realnosti je znak protesta protiv nametnutih konvencija, napuštanje okvira u koje smo, po rođenju, silom ugurani. Kada trenutak rođenja ostane dovoljno daleko iza nas i kada se nepristajanje na realnost intenzivira, vremenom, u nama počne da sazreva potreba da se ponovo rodimo na nekom drugom mestu koje ćemo sami izgraditi. Ivan uz pomoć iznijansirane poetske intuicije, rastvarajući kontradikcije vidljive stvarnosti, gradi jedan imaginarni svet projektovan na ostrvo Vajgač koje se nalazi u Arktičkom okeanu. Međutim, ni svet Ivanovog Vajgača nije lišen suprotnosti i tenzija koje nas prate u našoj sumornoj svakodnevnici, ali, pesnik te kontradikcije podiže na jednu složeniju metaforičku ravan na kojoj se u razdirućem ritmu ukršta ples svetlosti i tame sa glasovima teskobe i nade. Svet Ivanovog Vajgača nije zakržljala poetska imaginacija svedena na banalnu sliku rajskog vrta, već je to svet, opipljiv, čulan, svet leda i vatre, to je svet gde samo hrabri i maštoviti tragaoci mogu da prevale put preko bespuća sibirskih tundri utabavajući, svojim upornim hodanjem, staze koje služe kao mape za izlazak iz košmarnih predela bespuća svakodnevnice.
Nakon povratka sa putovanja, pridružite se benefit žurci za Koko Lepo Autonomni Vrtić.
<em><strong>Subota, 29. novembar u 19 časova
Infoshop "Furija", Višnjička 76, Beograd</strong></em>
Izvor: Infoshop Furija