Titolo: INSTINTO SELVAJE: PLAKAT SOLIDARNOSTI S TAMAROM SOL
INSTINTO SELVAJE: PLAKAT SOLIDARNOSTI S TAMAROM SOL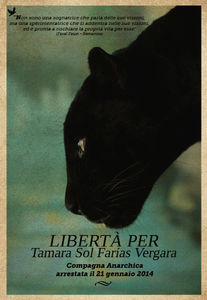 "Nisam sanjar koji govori o svojim vizijama,

već eksperimentator koji prodire u svoje vizije

i spreman je da rizikuje svoj život za njih" (Feral Faun - Bonanno)
SLOBODA ZA TAMARU SOL FARIAS VERGARA

Anarhistička Drugarica

uhapšena 21. januara 2014.
Naspram tišine uzvik solidarnosti!
Nekoliko tjedana nakon poziva na solidarnost s anarhističkim zatvorenicima željeli smo napisati nekoliko riječi za našu drugaricu Tamaru Sol Farias Toledo. Proteklo je već više od 7 mjeseci otkad si uhapšena pod optužbom za "pljačku" i "pokušaj ubojstva", i možemo samo reći da ćeš za nas koji vjerujemo u anarhiju ovdje i sada, biti uvijek prisutna u svakom antiautoritarnoj gesti i djelu koji ćemo izvršiti protiv ovog društva.
Kao anarhisti prepoznajemo se u ilegalnosti, pošto ih naše postojanje smeta, i posebno u tvojem slučaju ne prizanjemo margine zakona, ako bi te presuda proglasila krivom ili nevinom to ne bi ništa izmijenilo u našem neprijateljstvu protiv svakog društva, kapitala i svih oblika autoriteta i moći. Ti si drugarica u zatvoru, a to je dovoljno da ti iskažemo solidarnost u ovom trenutku, da ne sudjelujemo u tišini koja vodi u zaborav.
Tišina je neodvojivi suučesnik cinkarenja i ubojstva svakog našeg druga u zatvoru ili na djelu, zato ne želimo sudjelovati u njoj, a tim manje kada je jedan od naših drugova u zatvoru, bio on anarhist, antiautoritarac ili nihilist, ili pak s njim ne dijelimo afinitet.
Ovaj put smo željeli napraviti ovaj plakat bez tvojeg lica, i mada se pojavilo u medijima naših neprijatelja, a tvoj lik je na internetu, mi nećemo u tome sudjelovati, ni u tvom slučaju ni u slučaju drugovih drugova koji to nisu sami izabrali.
Zahvaljujemo svim drugovima koji su nam pomogli u realizaciji ovog plakata i njegovog prijevoda na druge jezike. Nadamo se da će se ovaj plakat pojaviti u gradovima i da će se proširiti različitim prostorima i projektima kontrainformacije.
Instinto Selvaje
Širimo divlju anarhiju!!!
Izvor: Instinto Selvaje via RadioAzione
Download plakata na različitim jezicima:
Talijanski - Španjolski - Engleski - Francuski - Portugalski - Grčki - Poljski