Titolo: ANARHISTI TERORISTI?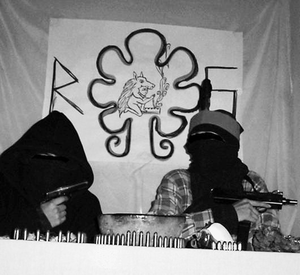 Na ovom sajtu neće biti objavljene izjave bivše meksičke, samoprozvane "terorističke", grupe Individualidades tendiendo a lo Salvaje [Pojedinci Skloni Divljini], današnje Reacción Salvaje [Divlja Reakcija]:
"... And if for that reason, during an attack, some citizen is wounded or killed, we won't care, we will be indifferent and indiscriminating. The population, the mass, the people, the community, the sheep, the society does not merit our consideration, neither warnings, nor calls to attention, nor anything at all, because they are all part of the system..."
[... I ako zbog toga, tokom jednog napada neki građanin bude ozlijeđen ili ubijen, ne briga nas, indiferentno i bez diskriminacije. Stanovništvo, masa, narod, zajednica, ovca, društvo ne zaslužuje našu pozornost, ni oprez, ni pozive upozorenja ni išta drugo, zato što su svi oni dio sistema...]
Izvor: 325