Titolo: The Local Kids — Issue 3 — Winter 2019
Origine: via mail
The Local Kids — Issue 3 — Winter 2019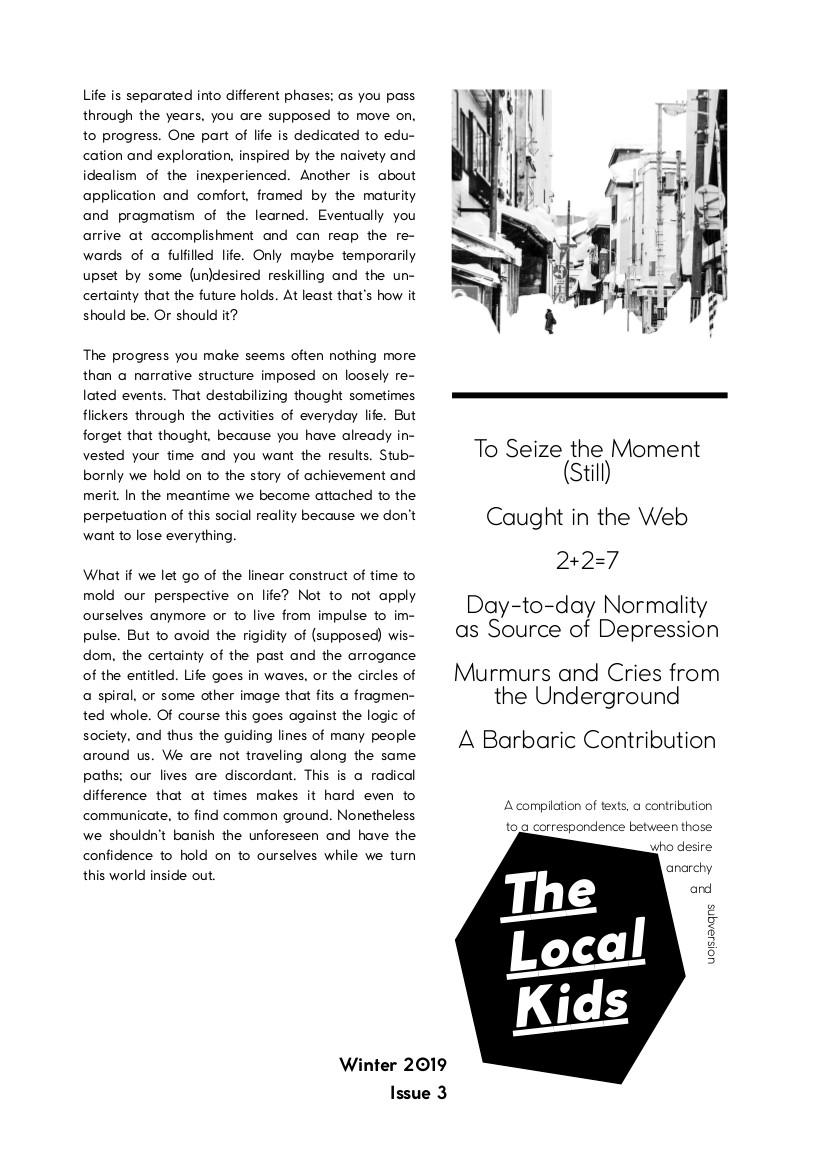 A compilation of texts, a contribution to a correspondence between those who desire anarchy and subversion.
Life is separated into different phases; as you pass through the years, you are supposed to move on, to progress. One part of life is dedicated to education and exploration, inspired by the naivety and idealism of the inexperienced. Another is about application and comfort, framed by the maturity and pragmatism of the learned. Eventually you arrive at accomplishment and can reap the rewards of a fulfilled life. Only maybe temporarily upset by some (un)desired reskilling and the uncertainty that the future holds. At least that's how it should be. Or should it?
The progress you make seems often nothing more than a narrative structure imposed on loosely related events. That destabilizing thought sometimes flickers through the activities of everyday life. But forget that thought, because you have already invested your time and you want the results. Stubbornly we hold on to the story of achievement and merit. In the meantime we become attached to the perpetuation of this social reality because we don't want to lose everything.
What if we let go of the linear construct of time to mold our perspective on life? Not to not apply ourselves anymore or to live from impulse to impulse. But to avoid the rigidity of (supposed) wisdom, the certainty of the past and the arrogance of the entitled. Life goes in waves, or the circles of a spiral, or some other image that fits a fragmented whole. Of course this goes against the logic of society, and thus the guiding lines of many people around us. We are not traveling along the same paths; our lives are discordant. This is a radical difference that at times makes it hard even to communicate, to find common ground. Nonetheless we shouldn't banish the unforeseen and have the confidence to hold on to ourselves while we turn this world inside out.
PDFs on thelocalkids.noblogs.org
[Contents]
- To Seize the Moment (Still)
- Caught in the Web
- 2+2=7
- Day-to-day Normality as Source of Depression
- A Barbaric Contribution
- Murmurs and Cries from the Underground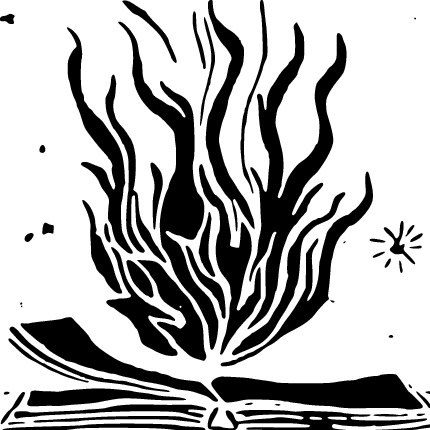 Bookmarks