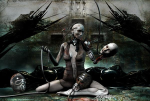 Pozdrav drugovi i srodni. Želio bih prenijeti vama vani nekoliko anarhističkih riječi, smatrajući vrijednima raznovrsne stavove i poglede koje anarhizam može usvojiti, pošto su svi jednako vrijedni kada nastoje uništiti moć, autoritet i državu. Mislim da u tome leži ljepota naših ideja, i mislim da svi ti putovi mogu zajedno živjeti i sjediniti se u potrazi za potpunim oslobođenjem, toliko željenim.
Želim izraziti moju mržnju, prezir i odvratnost prema svemu što je vezano za državu, moć, autoritet i nadasve za sredstvo uništenja zvanog zatvor, koji koristi kao jedno od svog osnovnog oružja izolaciju.
Uvijek sam bio pobornik ideje da anarhisti trebaju biti spremni i svjesni da u svakom trenutku može stići dan kada će se suočiti sa zatvorom i, po meni, to je logična stvar, jer ako nastojiš uništiti državu, ona će te pokušati uhapsiti da bi te uništila, paralizirala. No, unatoč svemu, neće uspjeti. No, ako iz ovog ili onog razloga, ona nas ne dira, tim bolje za sve.
Želim vas informirati da sam fizički i mentalno dobro. I dalje mislim isto kao i prije nego što sam ušao ovdje, čak sam još više uvjeren u moje ideje, visoko uzdignute glave i ponosan na ono što jesmo. Ja sam takav kako se ponašam i kakav je moj odnos prema teoriji i praksi, uvijek samokritičan kao bih mogao rasti, jer nikada ne prestajemo učiti, i ovim što sam sada iznio ne smatram se ni boljim ni gorim od drugih.
Želim prenijeti snage i hrabrosti drugovima, drugaricama i srodnima, i reći vam svom mojom snagom i bijesom da moj jedini put je borba. Svim tim napadima represija želi zastrašiti i paralizirati anarhističku sredinu i srodne, kako bi bili zauzeti samo pomaganjem onima koje je odmazda pogodila. Nemojte dozvoliti da se to desi, i nastavite ustrajno s vašim projektima, i nemojte oklijevati da kažete ono što jeste i što mislite.
Sve do dostizanja istinskog potpunog oslobođenja! Neka solidarnost ne budu samo ispisane riječi!
SMRT DRŽAVI I ŽIVJELA ANARHIJA!
...