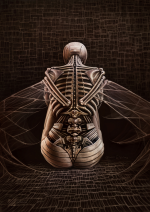 Izjava, Athene Tsakalou, majke anarhističkih zatvorenika iz Zavjere Vatrenih Ćelija, Christosa i Gerasimosa Tsakalosa, koju je u sudnici zatvora Korydallos pročitao njen advokat krajem juna 2016., zato što joj je zbog pružanja skloništa tada traženoj anarhistici Aggeliki Spyropoulou (zbog sudjelovanja u pokušaju bijega njenih sinova iz zatvora), nakon što je otpuštena iz pritvora, zabranjeno napuštanje otoka Salamina, a time i prisustvovanje vlastitom suđenju te posjećivanje sinova.

Nisam odabrala šutnju, mada me i ona često izražava jer svatko interpretira šutnju kako mu odgovara. Radije sa odabrala ovu osobnu izjavu. Nazivam je osobnom zato što ne pripadam nigdje; pripadam jedino samoj sebi.
Ima trenutaka kada pogledaš unazad svoj život i shvatiš da ti je preostalo živjeti daleko manje godina od onog što si već proživio; tako to ide, ako sve ide dobrim putem. I to je čudan, ali snažan osjećaj koji traži od mene da budem iskrena. Ne na onaj jednostavan uobičajen način, nego na dublji, bitan način.
Ne volim reći: kuda ide ovaj svijet? To je nešto što mi – stariji ljudi – često kažemo, ali takva fraza sadrži neku vrstu nedužnosti koju ja ne želim prihvatiti. Radije se pitam: kako ti sam prolaziš kroz ovaj svijet?
A istina je da sve što želim je hodati uz ljude na ohrabljujući način. Vrlo je važno znati ohrabriti ljude, posebno drage ljude; znati im to reći kada prolaze kroz teške trenutke:
Uz tebe sam
;
Uvijek te podržavam
. Ništa više. To je moja jedina želja, i sretna sam kad god to mogu učiniti. Zato, kad je Aggeliki pokucala na vrata moje kuće upravo sam to učinila. I bila sam vrlo zadovoljna što sam joj uspjela pružiti sklonište, premda samo na kratko vrijeme. Zbog ovakvog svijeta, jedino mjesto na kojem ja želim živjeti je mjesto prkosa.
Uzimajući to u obzir, ljudi su kroz stoljeća željeli živjeti, možda ne život ispunjen srećom, ali barem ispunjen radošću, ali njihova nam povijest dokazuje da nisu
....