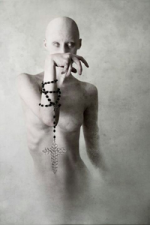 Izvor
:
Anarhistička Biblioteka
Kratka razmišljanja individualističke nihilist-anarhistkinje Venone Q.
Uspon Islamske države i užasavajuće slike koje dolaze iz Iraka i Sirije su me šokirale, uznemirile i rastrojile. Kao anarhistkinja, navikla sam da kritikujem Zapad, kapitalizam, prodor Zapadnih trupa u zemlje koje žele da destabilizuju i pretvore u izvor profita za bogate u Evropi i Americi. Ali to što sam anarhistkinja ne čini me imunom na strah ili zgražavanje, i moja odgovornost je da prepoznam ono šta osećam, da to razumem i ako je moguće da preduzmem nešto povodom toga. Nakon niza godina rastućeg islamskog fundamentalizma širom sveta, usled najnovijih dešavanja me podilazi jeza. Kako i ne bi? Nakon vesti o odsecanju glave novinara Džejmsa Folija, smaknućima stotine "nevernika", silovanjima i porobljavanju na hiljade devojčica i žena, imam osećaj kao da sam isčupana iz ovog vremena i prostora i strpana u srednji vek. Kao osobi sekularnih stremljenja sa Zapada, prizivanja Boga i zverstva počinjena u njegovo ime, meni deluju srednjevekovno. Zar nije svima jasno koliko je apsurdno boriti se u ime Boga i podvrgavati svirepom nasilju one koji "Ga" nazivaju drugačije? Ko ili šta je Bog? Gde je On? Da li On postoji? Kako iko u današnje vreme može da veruje u ovakve besmislice?
Svaki anarhista zna da religija nije samo priča o Bogu, nego i o Moći i pretpostavljam da sam se navikla na određena obrazloženja za zverstva počinjena u potrazi za Moći. Ali možda je moje užasavanje spram Islamske države toliko jako zato jer ne razumem kako neko može sprovoditi tiraniju i zulum u ime Božje pravde.
...