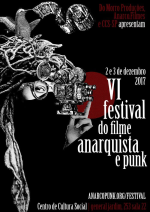 We came to the sixth year of the Anarchist & Punk Film Festival of São Paulo, with the proposal of visibilizing audiovisual productions and themes related to the counterculture of punk and anarchism, as well as guiding the use of this important tool in our struggles. This year the Festival will take place in the Centro de Cultura Social, an autonomous space of much history and contribution to anarchism in the city.
FESTIVAL SCHEDULE
https://anarcopunk.org/festival/programacao-2017
2 and 3 December 2017 | Centro de Cultura Social [General Jardim Street, 253 — room 22 — São Paulo]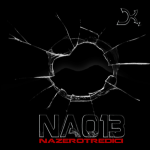 DOWNLOAD:
.wav
DOWNLOAD:
Soundcloud
Glazba ovog CD-a napisana je za pripovjetku
"NA013"
(autor Jkz), čitanu tokom radioemisija (
Dirette D'Azione
) na
RadioAzione.org
, između decembra 2013. i oktobra 2015.
Izvorna ideja, koja je još aktualna, bila je objaviti ovaj CD uz knjigu
"NA013"
, ali uzevši u obzir vrijeme potrebno za realizaciju (iz različitih razloga, među kojima i nažalost najosnovnijeg... financijskog) odlučeno je da se glazba stavi na raspolaganje svakome tko je želi skinuti, a i umnožiti za distribuciju.
Podsjećam da CD nema cijene, moja je želja da bude korišten kao benefit za anarhističke drugove u zatvorima diljem svijeta.
Zato, ako ga netko skine i snimi, neka ne bude škrt, ili još gore trgovac, i neka pošalje novac ili izravno u zatvor ili anarhističkim fondovima solidarnosti.
Isto tako, tko ga uzme od neke distribucije, neka bude darežljiv, i neka se sjeti da novac ne ide meni, a u slučaju da ga distribucija prodaje u svrhu zarade, možete ga ukrasti.
CD možete skinuti i sa stranice
"Muzika"
web-sitea RadioAzione [Hrvatska] ili sa stranice
Download
i
"Edizioni RadioAzione"
web-sitea RadioAzione [Italija].
<em>
...